Lawrence Music Tri-M music honor society recital showcased the depth and breadth of our talented student musicians. The entire music department staff have well prepared these amazing musicians. Performance is available on our channel through link posted.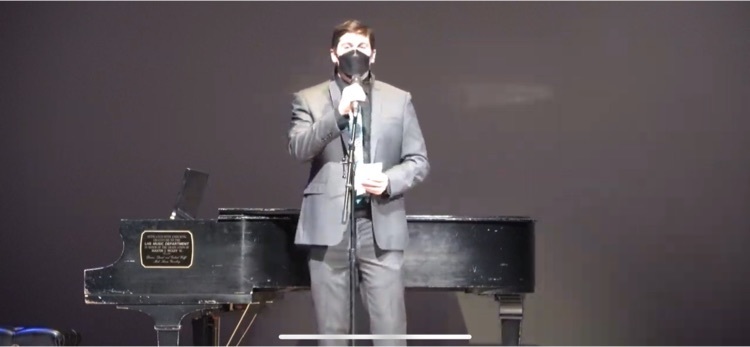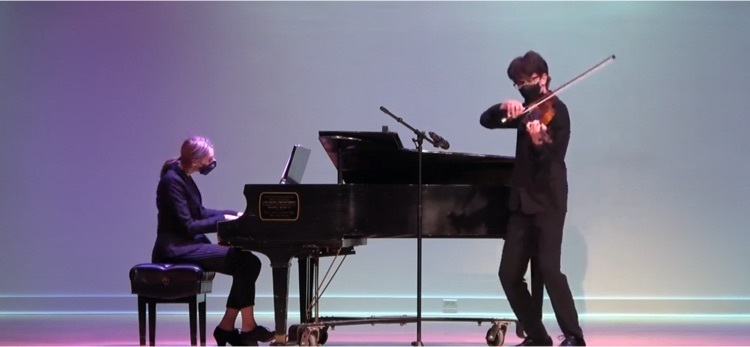 **SAVE THE DATE** Our Kindergarten Moving Up Ceremony will take place on Friday, June 11th! Please see the attached flyer for information. Please fill out the Kindergarten Moving Up Ceremony Google Form by May 10th to indicate your participation or not.
https://forms.gle/1FfqxQadwor2zTp39
**MORE DETAILS & INFORMATION TO FOLLOW** Thank you for your patience and understanding as we navigate these unique times together! . . **RESERVA ESTA FECHA**¡Nuestra ceremonia de ascenso de jardín de infantes se llevará a cabo el viernes 11 de junio! Consulte el folleto adjunto para obtener información. Complete el formulario de Google de la ceremonia de ascenso de jardín de infantes para indicar su participación o no antes de 10 de mayo.
https://forms.gle/1FfqxQadwor2zTp39
** MÁS DETALLES E INFORMACIÓN A SEGUIR ** ¡Gracias por su paciencia y comprensión mientras navegamos juntos en estos tiempos únicos!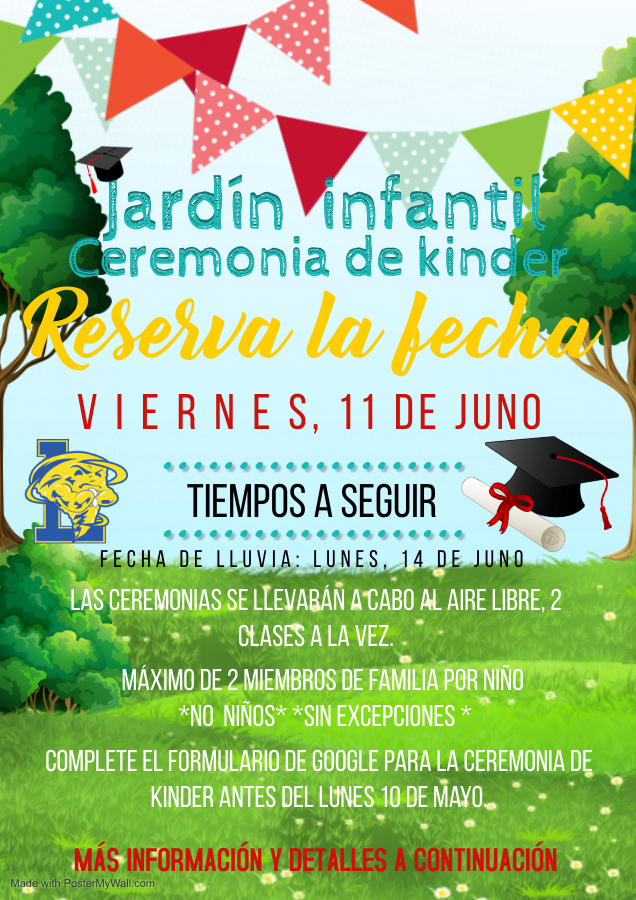 Today is 'FITNESS FRIDAY'! We will be SPORTING our matching Lawrence Strong! T-shirts to wrap up a great week! *If your child is in-person today, your child will receive it today in class! Objectives: Students will be able to identify at least 2 reasons why being - - Physically active is important for Mental Wellness - Physical activity gives us more energy - Physical activity sends oxygen to the brain, which helps us learn better - Physical activity helps calm us down when we are feeling worried or stressed We are Academically, Physically, & Mentally Lawrence Strong!

Save the date! Broadway Showcase -
https://youtu.be/twn9c5rXJNE
Date: Thursday, May 27th. 7:00 PM Title: Human Connection: What We've Gained. A Musical Theatre Revue The Music and Drama Department at Lawrence High School Proudly Presents: Human Connection: What We've Gained. This musical theatre revue covers topics such as social emotional intelligence, communication, loss, struggle, triumph, and many of the beautiful things that we have gained over the course of the last year.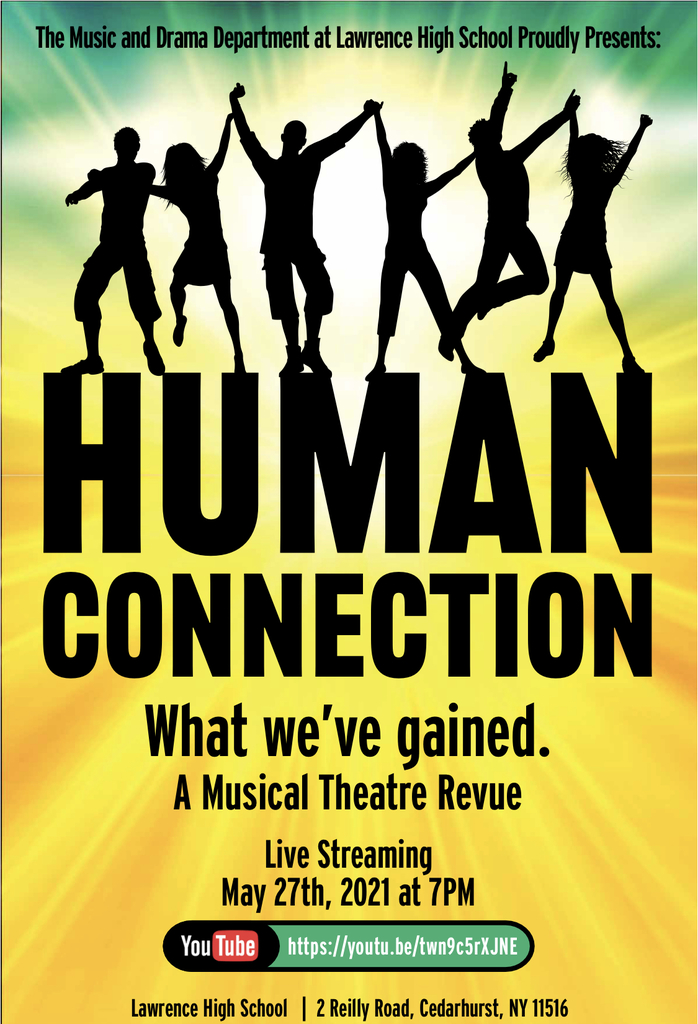 Tomorrow is 'Wellness Wednesday'! Suggested Attire: Express yourself day! Wear something that represents YOU - your country, your inner rock star, your hidden passion! Objectives: Students will be able to recognize the importance of positive self-esteem. Students will know that when you feel sad, angry or other big emotions, there are people to help you! All students will participate in a pre-recorded Live Yoga Session during their Live class! . . ¡Mañana es 'miércoles de bienestar'! Atuendo sugerido: ¡Exprésate el día! Use algo que lo represente a USTED: su país, su estrella de rock interior, ¡su pasión oculta! Objetivos: Los estudiantes podrán reconocer la importancia de la autoestima positiva. Los estudiantes sabrán que cuando se sienta triste, enojado u otras emociones importantes, ¡hay personas que lo ayudarán! ¡Todos los estudiantes participarán en una sesión de yoga en vivo pregrabada durante su clase en vivo!

Enjoy some photo collages from Monday & Tuesday Mental Wellness Spirit Week events ! Students understand that as humans, we experience all different emotions and that is okay!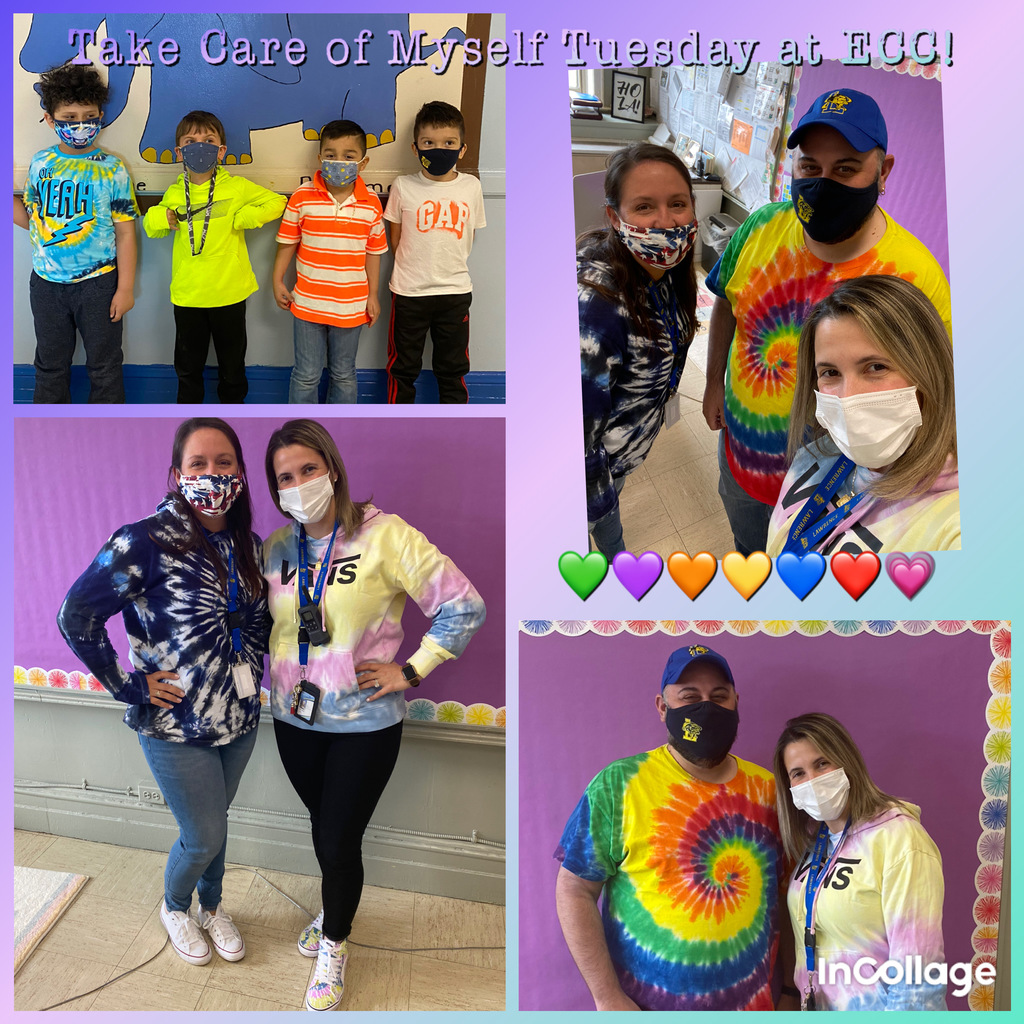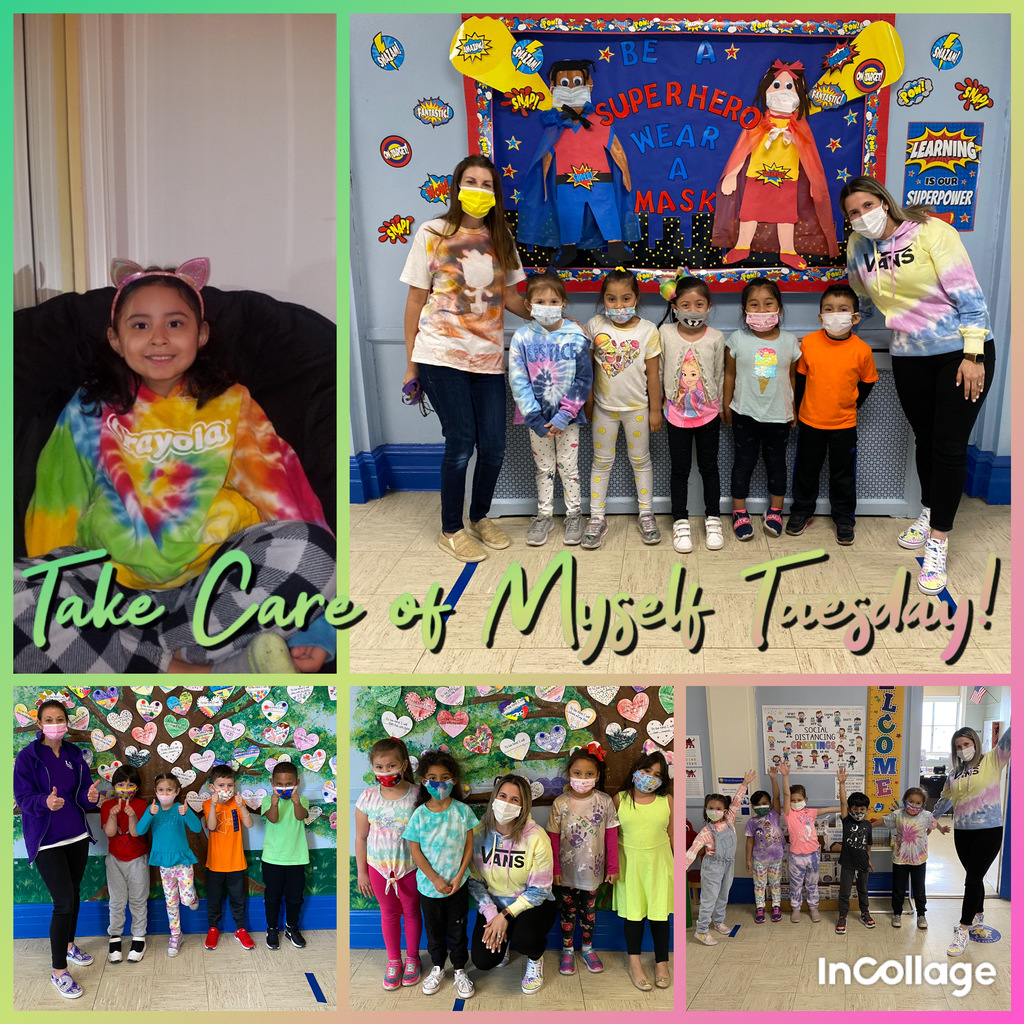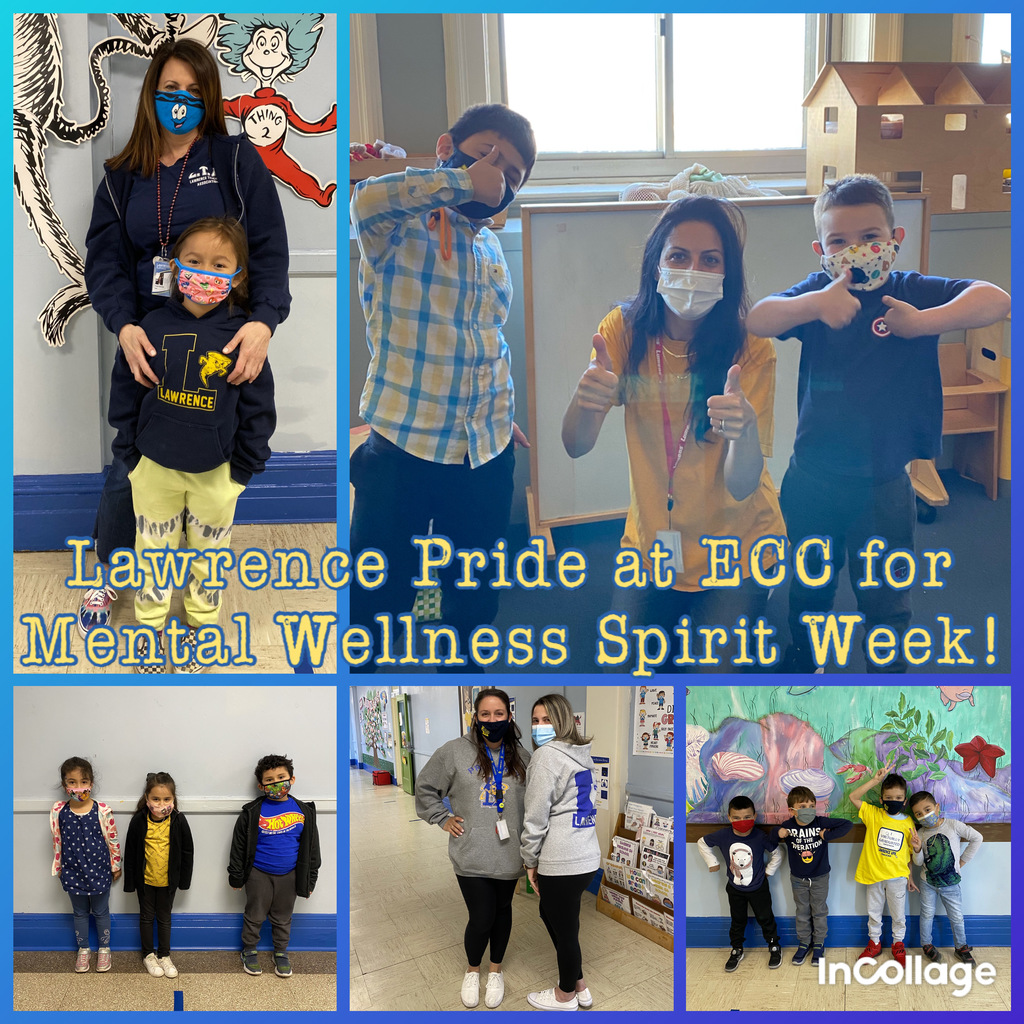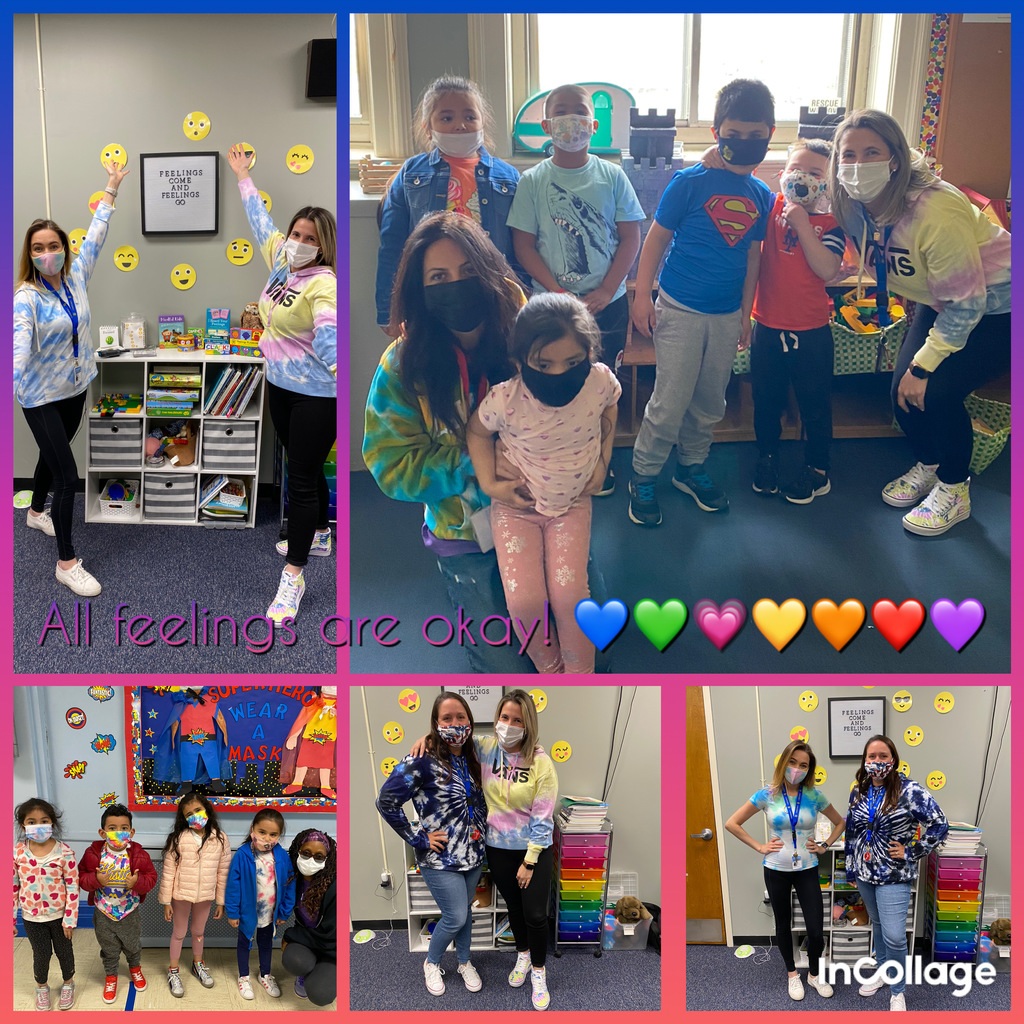 Friendly reminder to Wear tie-dye or bright color today for 'Take Care of Myself Tuesday'! This represents ALL the different emotions we feel! All feelings are okay! . . ¡Recordatorio amistoso para usar teñido anudado o colores brillantes hoy para el 'Martes Cuídame'! ¡Esto representa TODAS las diferentes emociones que sentimos! ¡Todos los sentimientos están bien!

Tomorrow is 'Take Care of Myself Tuesday'! Wear tie-dye or a bright color to represent all of the emotions we experience as humans. All feelings are okay! Objectives: Students will understand the importance of self-care. Self-care ensures that you are building in ways to cope with stressors, and are then available to take on challenges and help others - Student can identify strategies aimed at self-care - Students will understand that they can help themselves: hygiene, sleep, nutrition - I can practice mindful breathing to calm myself - Yoga and grounding exercises are great to help take care of my brain . . ¡Mañana es el martes 'Cuídame'! Use tie-dye o un color brillante para representar todas las emociones que experimentamos como humanos. ¡Todos los sentimientos están bien! Objetivos: Los estudiantes comprenderán la importancia del cuidado personal. El autocuidado asegura que está construyendo formas de enfrentar los factores estresantes y luego está disponible para enfrentar desafíos y ayudar a los demás. - El alumno puede identificar estrategias dirigidas al autocuidado. - Los estudiantes comprenderán que pueden ayudarse a sí mismos: higiene, sueño, nutrición. - Puedo practicar la respiración consciente para calmarme - El yoga y los ejercicios de puesta a tierra son excelentes para ayudar a cuidar mi cerebro.

**PLEASE WEAR LAWRENCE SCHOOL GEAR or COLORS TOMORROW to kick off our Mental Wellness Spirit Week!** ** ¡POR FAVOR USE EL EQUIPO DE LA ESCUELA DE LAWRENCE o COLORES MAÑANA para comenzar nuestra Semana del Espíritu de Bienestar Mental! ** Tomorrow, Monday, April 26th, we will kick off our Mental Wellness Spirit Week starting with "Musical Monday"! Research supports that music benefits mood and confidence. Music can restore a sense of calm in the classroom by helping students focus and develop inner peace. Here is a YouTube playlist for you to utilize and play as your children work quietly.
https://www.youtube.com/playlist?list=PL66DAUERq7gqRMIxUZsNZca4lNF_t4rL1
When we teach mindful breathing to kids, we give them a life-long tool for managing their stress and cultivating inner peace. Each and every one of us has the ability to fee calmer, more relaxed, and more alert at any given moment! Here is a Mindful Breathing Link to do with your children:
https://drive.google.com/file/d/10o_J_DolwZPgJjuh8NvWsnDY85mHbqNc/view?usp=sharing
Let's show unity and feelings of LAWRENCE PRIDE tomorrow!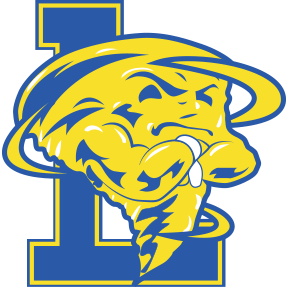 On Friday, April 23rd, our Pre-K & Kindergarten in-person learners planted plants outside in front of our Early Childhood Center building to celebrate Earth Day! Thank you to Assemblywoman Melissa Miller for donating the flowers to our beautiful school. Earth Day is about raising awareness about the importance of protecting our planet! Flowers help the environment around us in many ways! Flowers benefit the environment by creating more carbon dioxide absorbing and oxygen-radiating plants. Ultimately, flowers play a vital role in cleaning up other parts of our world! Michele DiCeglio created a "Flower Shop" outside of the building for our youngest learners to "shop" for their flowers. Teachers and staff, our Superintendent Dr. Ann Pedersen, Principal Mrs. Tariq, & Custodian Anthony Ferraro all participated in planting & watering our new flowers around our building with our learners! It was a beautiful event! Plants and flowers don't only add beauty to our beautiful Early Childhood Center but will greatly benefit our environment!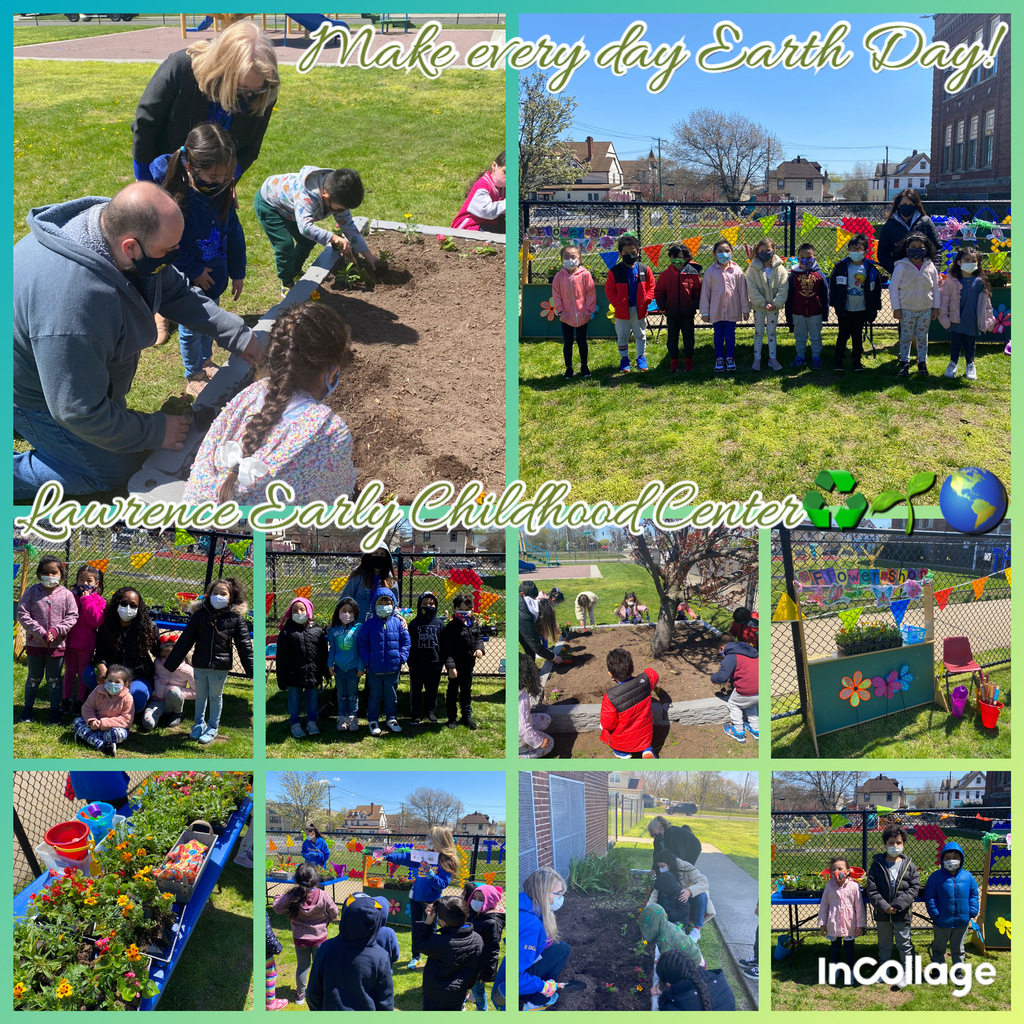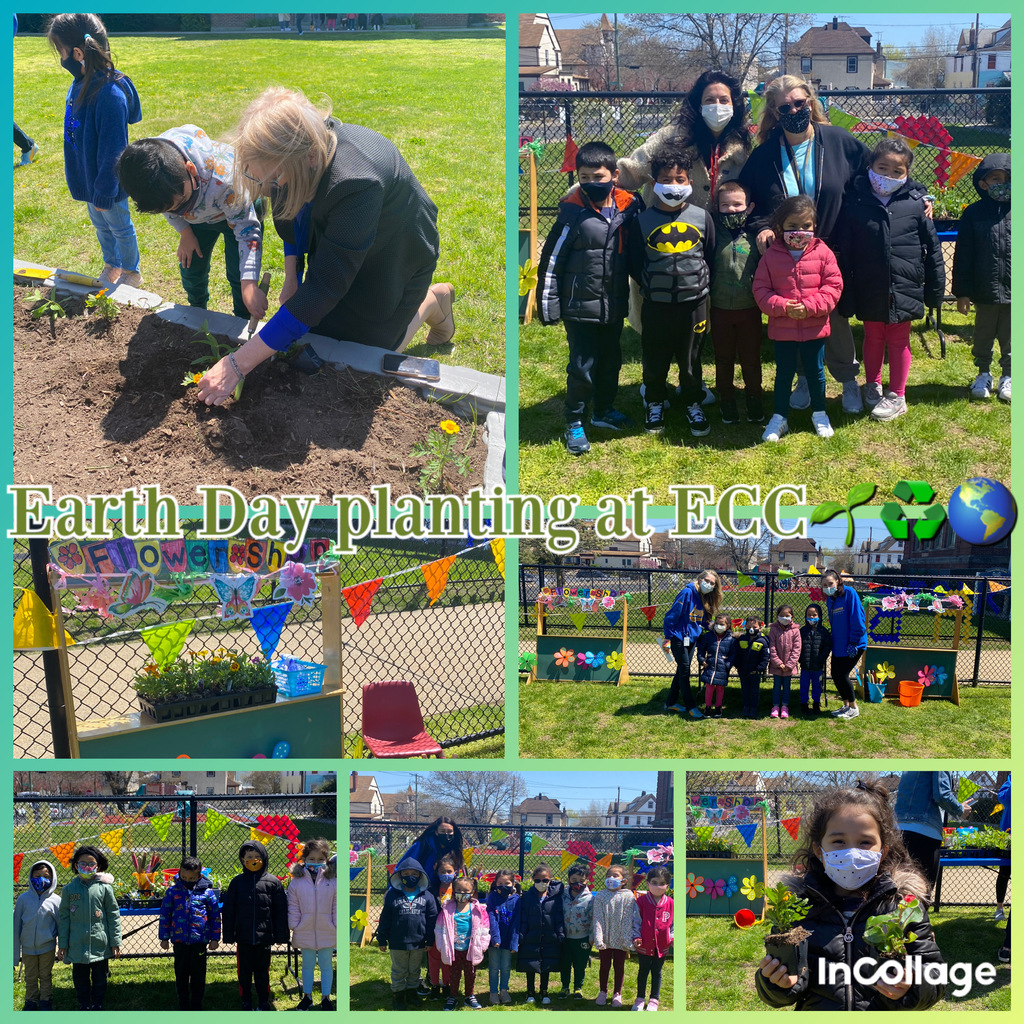 If your child received a shirt today, it is to be worn next week on Friday, April 30th for Mental Wellness Week! Cohort B learners will receive their shirt next week. There is a REMOTE LEARNERS ONLY PICK UP TOMORROW from 8-9AM, 12-1PM, and 3-4PM. . . Si su hijo recibió una camiseta hoy, ¡se la usará la próxima semana el viernes 30 de abril! Los alumnos de la cohorte B recibirán su camiseta la próxima semana. Hay un APRENDIZAJE REMOTO SOLAMENTE RECOGER MAÑANA de 8-9AM, 12-1PM, y 3-4PM.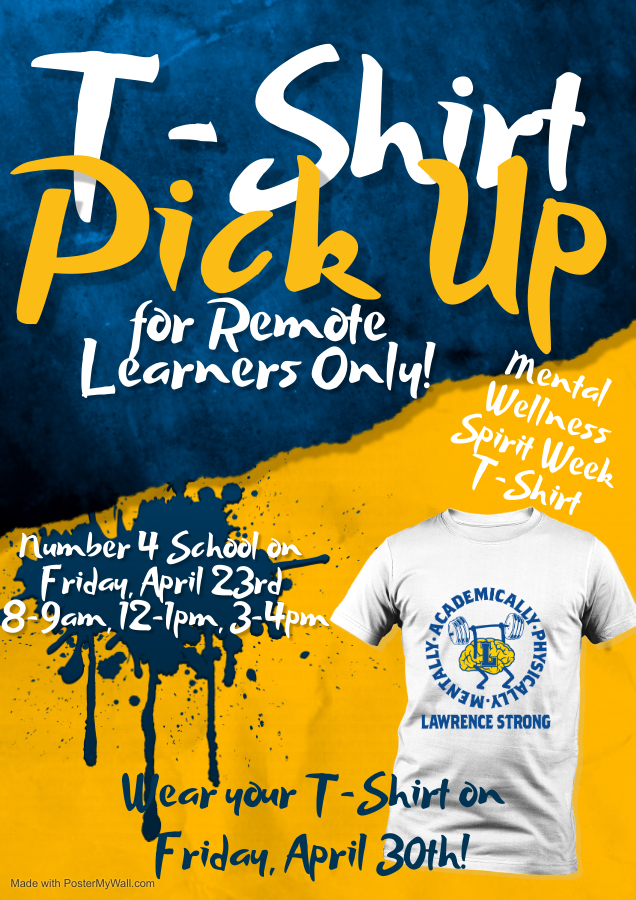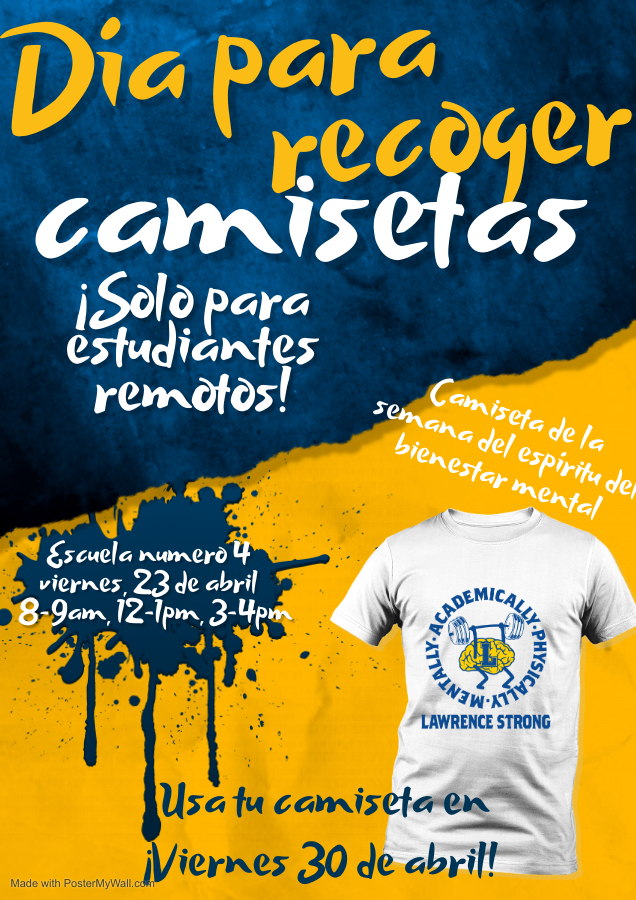 Tomorrow, Thursday, April 22nd is Earth Day! We will teach our students about what Earth Day is about by helping them understand how to respect and care for animal and plant life, natural resources and their habitats. To help celebrate, **PLEASE WEAR GREEN OR BLUE TOMORROW!** . . ¡Mañana jueves 22 de abril es el Día de la Tierra! Enseñaremos a nuestros estudiantes de qué se trata el Día de la Tierra ayudándoles a comprender cómo respetar y cuidar la vida animal y vegetal, los recursos naturales y sus hábitats. Para ayudar a celebrar, **¡POR FAVOR Viste DE VERDE O AZUL MAÑANA!**

Good afternoon Lawrence Early Childhood Center! Our Mental Wellness Spirit week begins on Monday, April 26th. Let's work together to learn about the importance of Mental and Physical Health on Academic Success! We will celebrate the many ways we can impact our brain and body in positive ways. On Friday, April 30th, students and staff will wear our matching T-shirts. Full remote learners, please watch for a message on how and when to pick up your shirt. A letter and flyer with the week's events can be found at:
https://core-docs.s3.amazonaws.com/documents/asset/uploaded_file/1222515/ECC.pdf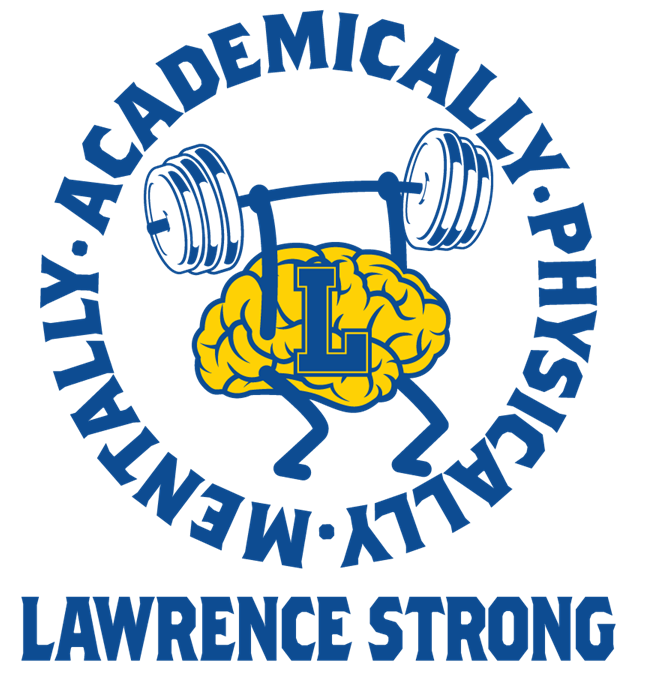 On the week of April 26th , Lawrence School District will celebrate Mental Wellness Spirit Week! Every student will receive a Lawrence Mental Wellness T-Shirt to wear. More information to follow! ***REMOTE FAMILIES ONLY*** If your child is FULL REMOTE, please pick up your child's t-shirt this Friday, April 23rd from 8-9am, 12-1pm, & 3-4PM ! . . ¡En la semana del 26 de abril, el Distrito Escolar de Lawrence celebrará la Semana del Espíritu de Bienestar Mental! Cada estudiante recibirá una camiseta de Lawrence Mental Wellness para usar. ¡Más información a seguir! *** SOLO FAMILIAS REMOTAS *** Si su hijo/a es COMPLETAMENTE REMOTO, por favor recoja la camiseta de su hijo/a, este viernes 23 de abril de 8-9AM, 12-1PM o de 3-4PM

Good morning Lawrence families. This Thursday (April 22nd), Northwell Health will be at the Five Towns Community Center distributing Coronavirus vaccines to individuals 18 years & older. Appointments are required and can be made online at
https://northwellvaccine.force.com/s/?id=a1T4x000007TenCEAS

April is Autism Awareness Month and every Friday we wear blue to acknowledge student differences and their unique talents! Teachers have incorporated various activities into each day to raise awareness! WE LIGHT IT UP BLUE AT ECC !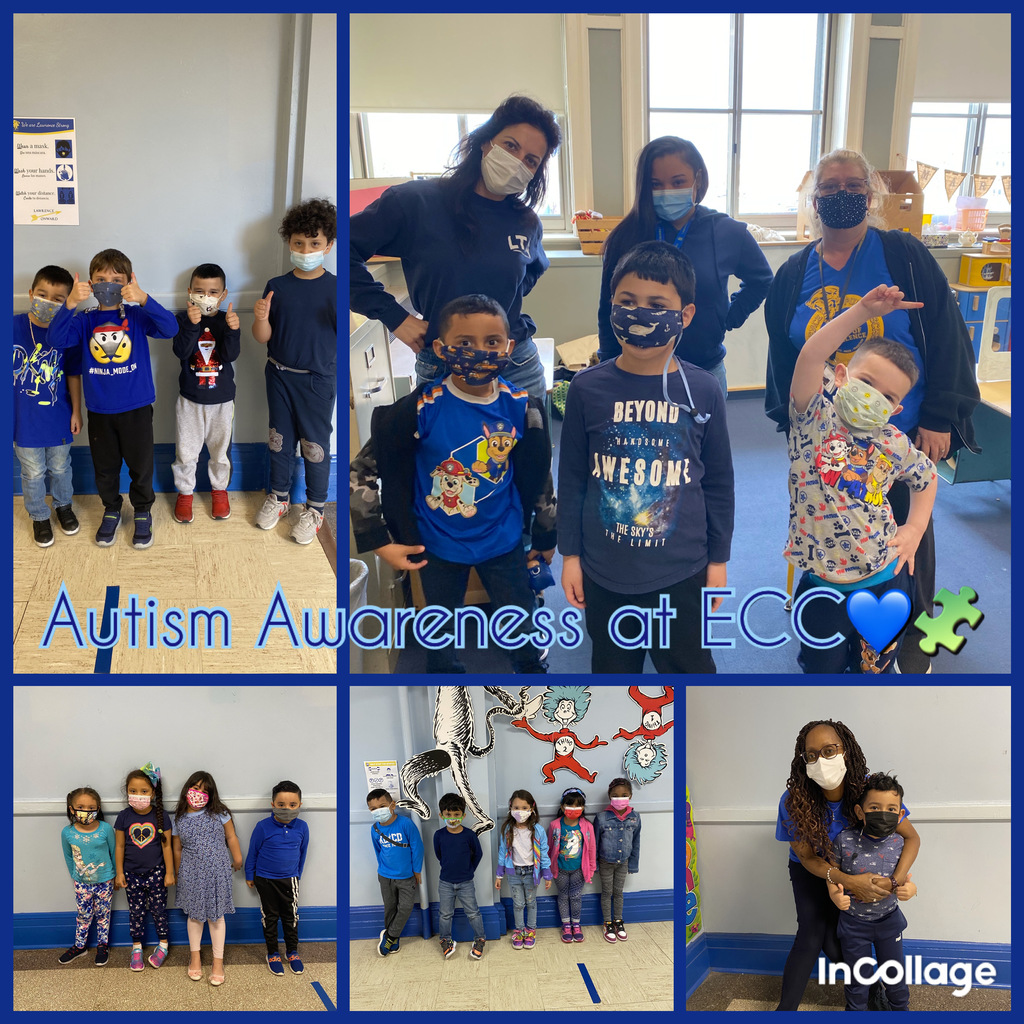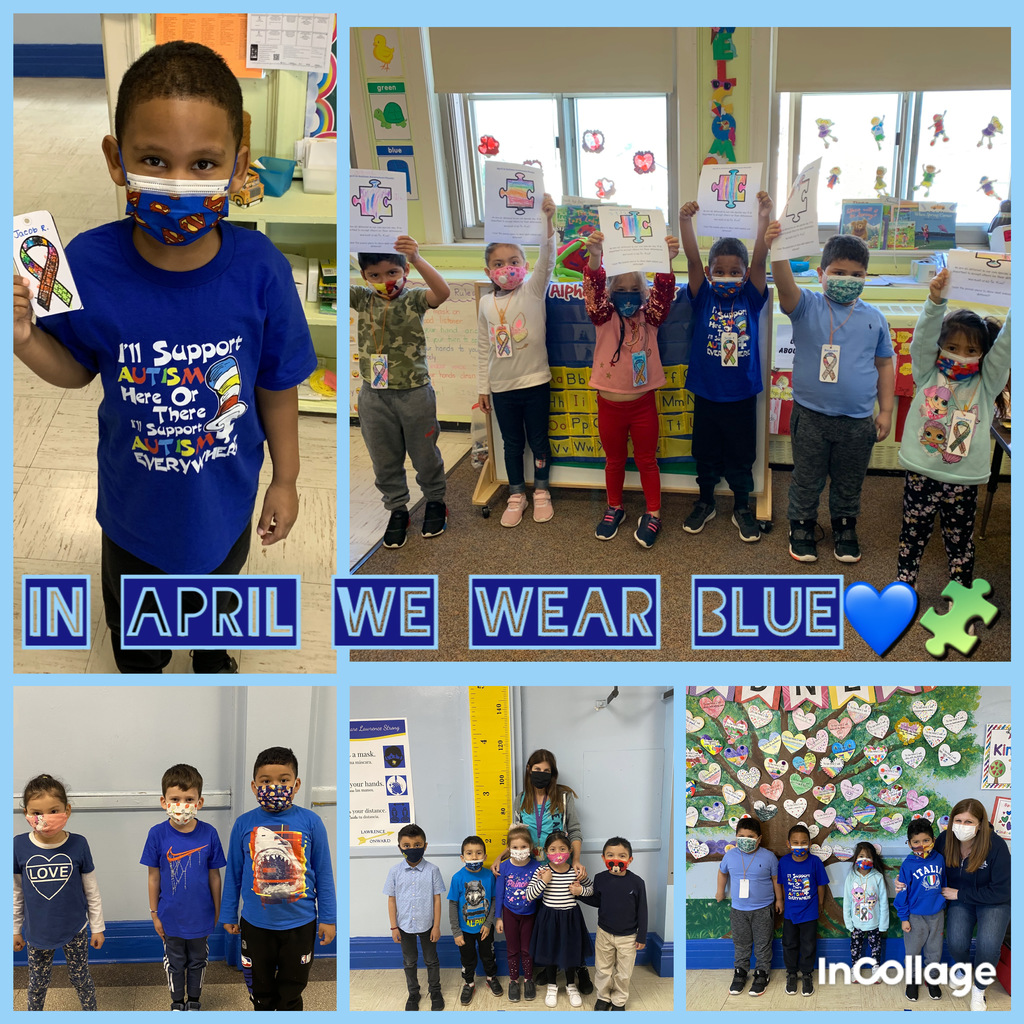 Today is Family Friday! Family Friday focuses on engaging and celebrating families, as we know this is the heart of supporting our youngest learners! We want to thank our families for always engaging and collaborating to ensure the success of each child. Almost every single aspect of our lives have changed this past school year! We acknowledge your efforts and willingness to foster personal connections, from a distance. Please remember to spend time together and celebrate Family Friday tonight with your Crazy 8's card game! This will also help with number recognition! Please send photos of your families PLAYING TOGETHER to Mrs. Tariq
ltariq@lawrence.org
. . Viernes Familiar se enfoca en involucrar y celebrar a las familias, ya que sabemos que este es el corazón del apoyo a nuestros estudiantes más jóvenes. Queremos agradecer a nuestras familias por participar y colaborar siempre para asegurar el éxito de cada niño. ¡Casi todos los aspectos de nuestras vidas han cambiado este año escolar pasado! Reconocemos sus esfuerzos y disposición para fomentar las conexiones personales, desde la distancia. ¡Recuerde pasar tiempo juntos y celebrar el viernes familiar esta noche con su juego de cartas Crazy 8! ¡Esto también ayudará con el reconocimiento de números! Por favor envíe fotos de sus familias JUGANDO JUNTOS a la Sra. Tariq
ltariq@lawrence.org


Please WEAR BLUE TOMORROW! April is Autism Awareness Month to increase global understanding & acceptance of individuals with autism. To highlight this within our building I ask all students and staff to 'LIGHT IT UP BLUE' EVERY FRIDAY (WEAR BLUE) for the month of April! We will focus and discuss the importance of being accepted and inclusive to all; understanding that we are all unique! . . ¡POR FAVOR USE AZUL MAÑANA! Abril es el Mes de Concientización sobre el Autismo para aumentar la comprensión y aceptación global de las personas con autismo. Para resaltar esto dentro de nuestro edificio, les pido a todos los estudiantes y al personal que 'SE ENCIENDA DE AZUL' TODOS LOS VIERNES (VISTE DE AZUL) para el mes de abril! Nos enfocaremos y discutiremos la importancia de ser aceptados e inclusivos para todos; entendiendo que todos somos únicos!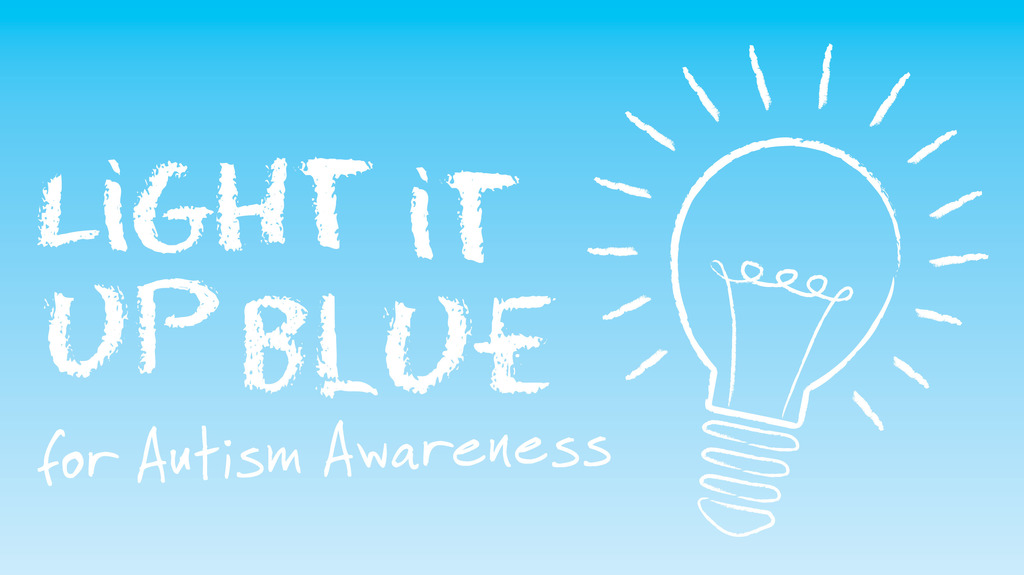 TODAY WAS ARTSY THURSDAY! Students explored using their imagination, creating masterpieces throughout the day!