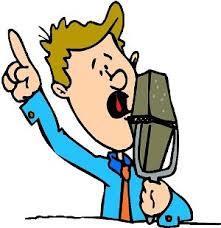 Daily Announcement 9.26
John Ballantyne
Thursday, September 26, 2019
Lawrence High School
Announcements for Thursday, September 26, 2019
ID's
It is important for the safety and security of our school that we all have our ID's on and visible. If you were issued a detention for no ID you MUST serve it within 2 days.
Broadway Showcase – Advisor – Mr. Riley and Ms. Staller
This February, the Theater Department will bring Shrek's swamp to Lawrence. Come be part of the fun as we bringS, Fiona, Donkey, Lord Farguaad and all their fairytale creature friends to life! An informational meeting will be held on today, September 26th. All who are interested must attend and remember Ogres are like onions!
Buskins Theater Production – Advisors- Mr. Riley and Ms. Staller
On a dark and stormy night, six unique guests SHOW UP TO A DINNER party… No one is safe! Based on the popular board game and adapted from the cult classic film, Clue is the comedy whodunit that will keep you guessing (and laughing) to the end. THE BUSKINS THEATER PRODUCTION IS LOOKING FOR MALES AND FEMALES INTERESTED IN TRYING THEIR HAND IN ACTING!! NO EXPERIENCE IS NECESSARY, JUST A KEEN INTEREST IN TRYING SOMETHING NEW. THIS FRIDAY FIND OUT MORE DURING THE CLUE INFORMATIONAL MEETING RIGHT AFTER SCHOOL AT 2:45 SHARP IN THE LITTLE THEATER. COME ON DOWN and join the iconic oddballs known as Scarlet, Plum, White, Green, Peacock and Mustard as they race to FIND A CLUE.
En una noche oscura y tormentosa, seis invitados únicos SE MUESTRAN A UNA CENA... ¡Nadie está a salvo! Basada en el popular juego de mesa y adaptada de la película clásica de culto, Clue es la comedia whodunit que te mantendrá adivinando (y riendo) hasta el final. LA PRODUCTION DE BUSKINS THEATER BUSCA MALES Y FEMALES INTERESADOS EN PROBAR SU MANO EN ACTING!! NO SE NECESIDAD EXPERIENCIA. SOLO UN INTERES EN PROBAR ALGO NUEVO. ESTE VIERNES ENCONTRARÁ MÁS INFORMACIÓN DURANTE LA REUNIÓN INFORMATIVA DE CLUE JUSTO DESPUÉS DE LA ESCUELA A LAS 2:45 SHARP EN EL LITTLE THEATER. VEN EN ABAJO y únete a las icónicas bolas extrañas conocidas como Scarlet, Plum, White, Green, Peacock y Mustard mientras compiten para ENCONTRAR UN CLUE
History Club – Advisor – Mr. Walker
There will be a meeting of the History Club today at 2:40 in room 331. Any students who would like to join see Mr. Walker.
S.A.D.D. tendrá una reunión hoy después de la escuela en la sala 319. Por favor, asista
LHS College Planning Night for Seniors – LHS Guidance Department
Attention Seniors! On Thursday, October 3rd, at 6:30 am, Lawrence High School will be hosting a College Planning night event. All Seniors and their parents are encouraged to attend. The presentation will be conducted in English in the Cafeteria and in Spanish in the Little Theater. Please do not miss out on all that you need to know about applying for college admission.
¡Atención Seniors! El jueves 3 de octubre, a las 6:30, Lawrence High School organizará un evento nocturno de planificación universitaria. Todos los del doce grado y sus padres deben asistir. La presentación será presentado en inglés en la Cafetería y en Español en el Teatro Pequeno. Por favor, no se pierda todo lo que necesita saber acerca del proceso de aplicar a la universidad.
Key Club – Advisor – Mr. Mayo
Petitions for Homecoming Royal Court will be given out today through Friday this week. See Mr. Mayo or any Key Club Officer to get a form. The Officers are Luke Kirshner, Kain McHale, Nader Daruvala, Angie Melgar, Matthew Guevara and Thomas Rincon.
Lawrence Football – Advisor – Mr. Supple
Please help our out All-County Captain David Manara in his quest to win the:
2019 Heart of a Giant Award
The grand prize victory will see Lawrence Football grated $9000.00, in new equipment and David will be honored on the field at a New York Giant's home game. You can vote until Sunday, October 13th at www.usafootball.com/hoagvote
You can vote once a day per device. Thank you.
S.A.D.D. – Advisor – Ms. Cammarata
S.A.D.D. will have a meeting today after school in room 319. Please attend.
S.A.D.D. tendrá una reunión hoy después de la escuela en la sala 319. Por favor, asista
Senior News
A representative from St. John's University will be in the Guidance Office Conference Room on Friday, September 27th, 4th Period to discuss admission process and scholarship opportunities. If you are interested in attending, you will need to sign up in the guidance office prior to the meeting. If you have a class during that time, you will need to have your teacher sign a permission slip which you can also obtain from the guidance office.
Sophomore and Junior Student Officers
Good morning Lawrence High School. This announcement is for the Sophomore and Junior officers. Today, September 26th, there will be an initial meeting. We will meet in room 125E directly after school. Come with great ideas and happy energy. See you next Thursday!
Tennis Team – Advisor- Mr. Biscardi
The Lawrence tennis tornadoes won a close, hard fought match yesterday against Hempstead winning 5-2.
A key victory from Coco and Sariah sealed the win for the team. They won a close 3 set Match to lead the team.
Today we play the second match of a Home and Home against Hempstead. Let's get it girls!
TRI-M- Advisor – Mr. Batts
TRI-M Music Honor Society will hold elections on Monday, October 7th.
All TRI-M members must attend this meeting.
Virtual Enterprise- Advisors – Mr. Albin and Mr. Albin
Congratulations to Jamie Chacon Palacios, winner of a New York Mets Latino Leadership Scholarship. Jamie will receive paid tuition for one Virtual Enterprise LIU Post High School Scholars Course.