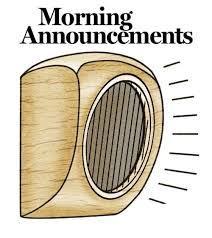 Daily Announcements 9.13.19
John Ballantyne
Friday, September 13, 2019
Lawrence High School
Announcements for Friday, September 13, 2019
All English Classes – Ms. Stanley
Attention all students: All Students must submit their independent summer reading assignment by Tuesday, September 24th. If you need help or need a book please see your English teacher, Librarian or Ms. Stanley.
Guidance Department News
Fall College Expo
Date: September 14, 2019
Time: 12:00 pm - 3:00 pm
Location: SUNY College at Old Westbury
This huge event is sponsored by the Nassau Counselors Association and is hosted at a local college. It's an excellent opportunity for students and their families to learn more about colleges and other institutions of higher education from around the country. Workshops will be offered on Financial Aid; the College Admissions Process; Students with special needs; and NCAA Guidelines for the student athlete. Over 200 schools plus military and career schools are represented. Last year, more than 4,000 students and their parents visited the Expo and we expect to have a terrific turnout this year as well. It's FREE and a chance you simply won't want to miss!
The 2019 Expo will be held SATURDAY, September 14th at SUNY College at Old Westbury.
Students must wear their school ID. If a student has misplaced their ID, we will print new ID's for free until Friday, September 13th.
Rise-Up-Advisor – Ms. Kind
All students who participated in the RISE-UP Program this summer, your folders are available. Come and get your work in room 125E before summer reading is due September 24th. 125E is in the back of the High School near the Art Suite. See you soon!
Senior News – Advisor – Ms Bayeva
The Senior Assembly will take place today, the 13th of September, period 2. The senior class photo will be taken at this time.
Senior Car Wash Fundraiser – Advisor – Ms. Bayeva
The Senior Car Wash Fundraiser will take place Sunday, September 15th, 10:00 am – 12:00 pm, in the student's parking lot. Bring your car and tell your friends. $8.00 per car. Donations are welcomed!
Boys Volleyball – Advisor – Mr. Klein
Congratulations to the Boys Varsity Volleyball Team on their 3-0 win over Carey yesterday. Thomas Rincon had 18 assists. Don Smalls III had 7 Aces and 9 Digs. Devon Rampersaud
added 6 Kills.