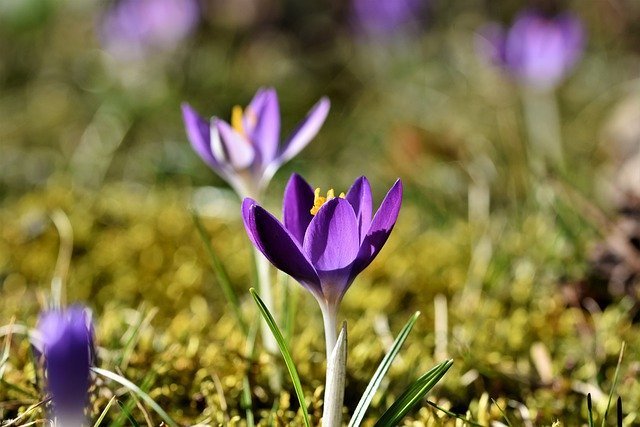 3/13 Update Regarding the Coronavirus
Lawrence School District
Friday, March 13, 2020
Lawrence still has no cases, harder to find crocus.
Friday, March 13, 2020

Good morning Lawrence Families,

What a week. It actually isn't harder to find the crocus, they are beautiful and being joined by the daffodils, it's just harder to peel away from the news and take a look. Please try to find beauty in this chaos.

My fear for everyone's physical safety is joined by a fear that as we socially distance ourselves, we are emotionally distancing ourselves. We worry about "who" we could catch this from, and xenophobia sets in. I worry that when my daughter in law from Southeast Asia goes out with my granddaughters, people move even further away. I worry for our Orthodox members of the Lawrence "cultural mosaic," because why, the first case we know about was an Orthodox man?

Science not fear, facts not fear. Not an easy task in an ever-evolving crisis.

It's raining on the crocus today. That doesn't ruin them, it helps them grow. May we all get to the other side of this experience as healthy, kind humans.

I'll update all this morning on our plans for next week via an FAQ document.

Be well, be strong.

Dr. Ann Pedersen
Superintendent of Schools
Lawrence Public Schools

---
Lawrence todavía no tiene casos, es más difícil encontrar el azafrán.
VIERNES, 13 DE MARZO DE 2020
Buenos días familias de Lawrence,
Que semana. En realidad no es más difícil encontrar el azafrán, son hermosos y están unidos por los narcisos, es más difícil apartarse de las noticias y echar un vistazo. Intenta encontrar belleza en este caos.
Mi miedo por la seguridad física de todos se une el temor de que a medida que nos distanciamos socialmente, nos distanciamos emocionalmente. Nos preocupamos de "quién" podríamos captar esto, y la xenofobia se establece. Me preocupa cuando mi nuera del sudeste asiático salga con mis nietas, la gente se aleje aún más. Me preocupan nuestros miembros ortodoxos del "mosaico cultural" de Lawrence, porque ¿por qué, el primer caso que conocemos fue un hombre ortodoxo?
La ciencia no teme, los hechos no temen. No es una tarea fácil en una crisis en constante evolución.
Hoy está lloviendo en el azafrán. Eso no los arruina, les ayuda a crecer. Que todos lleguemos al otro lado de esta experiencia como humanos sanos y amables.
Todos serán Actualizados esta mañana acerca de nuestros planes para la próxima semana a través de un documento de preguntas frecuentes.
Esten bien, y sean fuertes.
Dr. Ann Pedersen
Superintendente de Escuelas
Escuelas Públicas de Lawrence