November's Wellness Wednesday Newsletter
Wellness Wednesdays Committee
Wednesday, November 20, 2019
Welcome to Wellness Wednesdays!
We are moving into holiday season, with Thanksgiving right around the corner. We are grateful for our community that continues to work together to be healthy. It is hoped that the eblasts reinforce our commitment of caring for ourselves and others. Please send us ideas to share with our colleagues and families across the district. (WellnessWednesdays@Lawrence.k12.ny.us)
Interesting Information:
Here are some additional tips from Rachel Kelly, a mental health advocate and author of The Happiness Diet. Combining smart nutrition strategies with a healthy diet can do wonders for your body and mind.
1. Say hello to nuts and seeds.
Nuts such as pistachio, walnuts, almonds and cashews and seeds, such as flaxseed, pumpkin seeds and chia seeds, are a good source of protein, fiber and heart-healthy fats. According to a recent study published in the Journal of the American College of Cardiology, eating nuts at least twice a week can cut the risk of heart disease by almost a quarter.
If you aren't a fan of trail mix, try sprinkling nuts or seeds over soups or salads as an accent.
2. Limit added sugars
Eating sugar-laden foods increased the risk of obesity, Type 2 diabetes and cardiovascular diseases. Sugary foods trigger blood sugar drops which can make you feel jittery, anxious or short-tempered. According to the American Heart Association (AHA), the maximum amount of added sugars you should consume in a day are 37.5 grams (9 teaspoons) for men and 25 grams (6 teaspoons) for women.
3. Slow carb instead of no carb
Don't rule out all of your treats; alter the recipe instead (This is a great idea!)
Swap white pasta with buckwheat noodles; use almond butter instead of salted butter or trade milk chocolate with dark chocolate. Zoodles, anyone?
4. Eat foods that will help you sleep better
Adequate sleep is an indispensable part of a healthy lifestyle. It elevates mood and helps improve your cognitive skills and cardiovascular health, among other things. Eating foods that induce sleep is a natural and effective way to fight insomnia. Consuming foods that are rich in tryptophan, such as bananas, potatoes, almonds, seeds, and whole-grain oats are your best bet. Tryptophan is an amino acid which is involved in the synthesis of melatonin, the sleep hormone.
5. Pay attention to your plate.
Multitasking while eating makes it difficult for you to listen to your body's hunger cues. Mindful eating helps you understand hunger signs, appreciate food and prevent binge-eating.
So the next time you sit down to have a meal, get rid of all the distractions (phone, TV, laptop, tablet) and focus on eating. Take your time to see, smell, savor and swallow every bite of your food.
In addition, stock your kitchen with food that nourishes your brain.
Keep ingredients like chickpeas and sun-dried tomatoes at the ready.
Keep your freezer stocked with frozen fish and vegetables, so if you come home late or feel tire, you can still fix a quick, healthy meal.
PRACTICAL PRACTICES:
Check out this great pre-Thanksgiving Mental Wellness activity!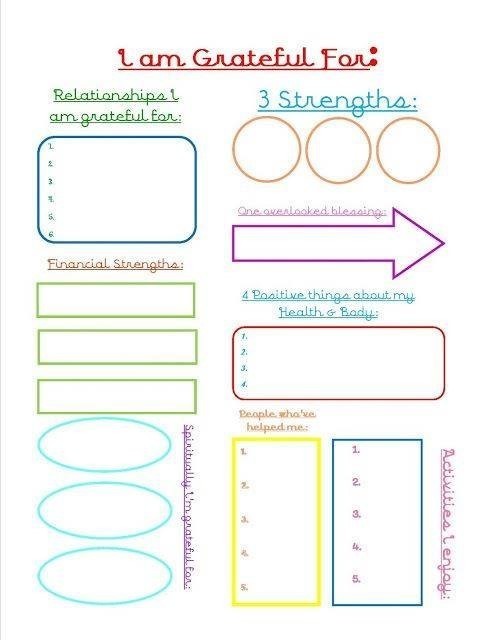 Workday Wellness:
The Need for Self Care Leading Up to the Holiday Season
While many would agree that the holiday season is the most wonderful time of the year, it can also be a source of stress. During this time, people often stress over money, recent losses, making time for all the holiday events, and finding time to relax. Here is some information from Tina Arnoldi, from Psych Central
Who's At Risk for Holiday Stress?

Perfectionists who want each holiday meal and every gift to be perfect
Chronic warriors who become anxious about the negative outcomes of certain situations
Elderly who may be isolated from family or friends (particularly males)
Grieving individuals even if not recent. Holidays may serve as a trigger
Individuals who are responsible for hosting the holidays, shopping for gifts, managing the family's time, etc.
Almost everyone!
Symptoms to Watch for:
Physical symptoms such as headaches, shortness of breath, fatigue, muscle tension and disruption of sleeping or eating patterns
Emotional responses such as feeling out of control, feeling nervous, anxious, hopelessness or anger
Negative behaviors such as aggression or compulsive behaviors, or maybe overreliance on substances
Mental symptoms such as confused thinking, difficulty concentrating, negative talk and using poor judgment
Tips for dealing with holiday season stress:
Ask for help. Holiday serving can be fun if everyone contributes something they enjoy eating
Be flexible. Stray from the same old-same old. Change your menus
Letting go. Adopt a new tradition.
Set boundaries. It's ok to say no!
Practice self-care. Go to a yoga class before company comes, play relaxing music when they arrive!
Wishing everyone a healthy and happy Thanksgiving! See you next month with more Holiday Cheer!