Dr. Ann Pedersen, Superintendent
Jeremy Feder, Assistant Superintendent for Business and Operations
---
Superintendent's Message August 2017
Superintendent's Message July 2017
---
---

---
ADVANCES IN TECHNOLOGY INTEGRATION

Mr. Lee Araoz, District Instructional Technology Coordinator has been invited to serve on the NYSED Educational Technology Advisory Committee for the 2017-2018 and 2018-2019 school years.
He has been selected as one of 27 members out of almost 500 applications based on his expertise, interest, and dedication to improving student achievement through the use of educational technology. We are proud that Mr. Araoz is representing Lawrence for the advancements we have made to infuse technology into our instructional program.

Congratulations to Mr. Araoz!
---
Lawrence High School is proud to announce the following for the Class of 2017:
Valedictorian – Allen Green
Salutatorian – Aaron Casanada
Honor Speaker – Barbara Williams
Congratulations to these hardworking students!
---
Lawrence Premiers New TV Program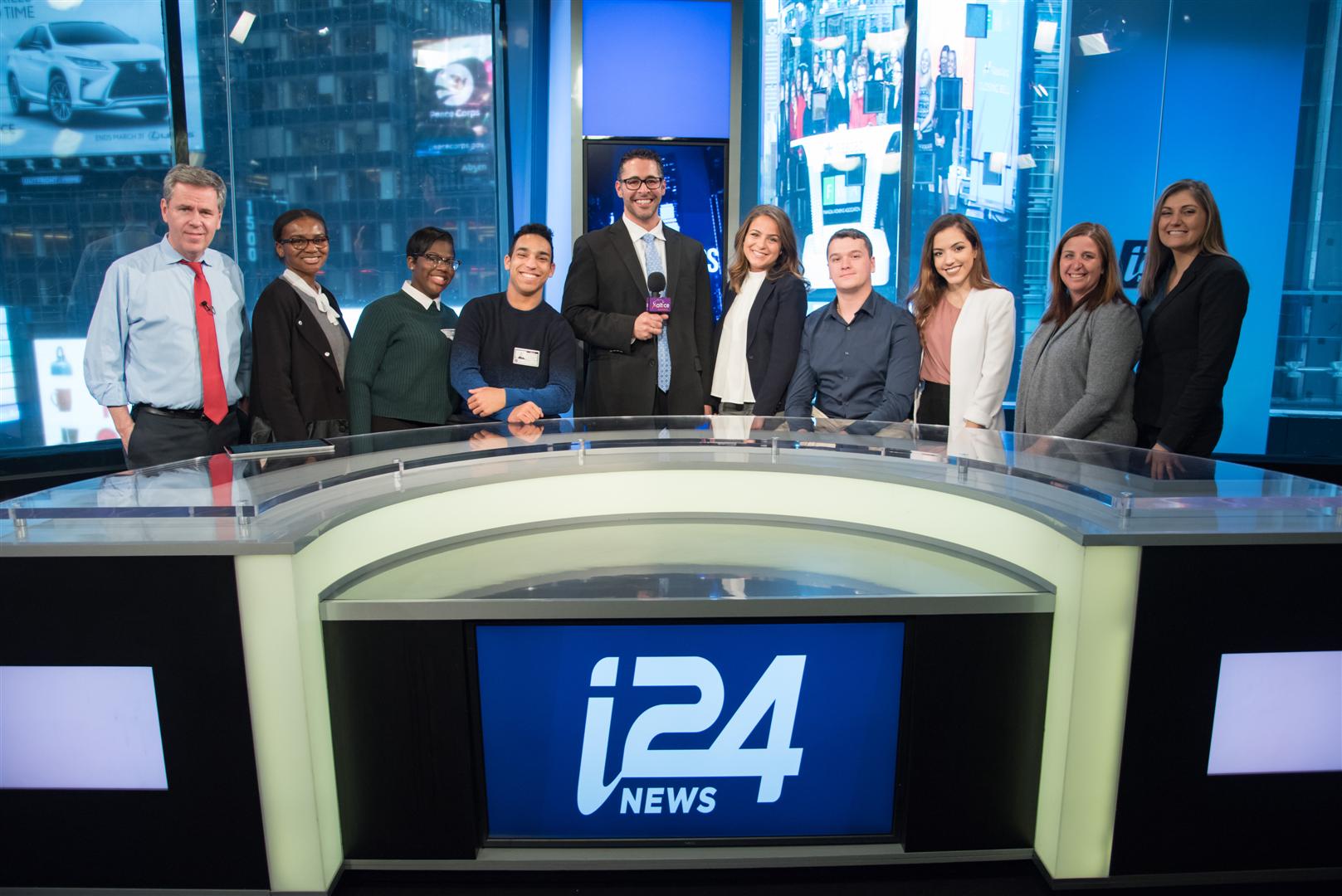 READ THE FULL ARTICLE IN NEWSDAY
Altice USA and i24News recently announced a media program for local NY tri-state area high schools called Altice Connects Global Voices. The program allows local high school students to engage with the i24News team and discuss current events. To kick off the program, Lawrence High School students Ariana Brown, Haisha Famuyide, Stanley Faynblut, Ruby Levine, Jessica Moreno, and Matthew Zampino participated in a behind the scenes experience at the i24News studio in Times Square.
---
Lawrence students gear up for an i24News Experience
Through a continued partnership with Optimum and Altice that has enabled Lawrence students to attend the last two Presidential Debates at Hofstra University, Lawrence students Ariana Brown, Haisha Famuyide, Stanley Faynblut, Ruby Levine, Jessica Moreno, Yael Oken, Danielle Portillo, and Matthew Zampino have been invited to the brand new i24News Studios in Manhattan on Monday March 6th. Students will be getting a behind the scenes tour and access to the studios. Follow Dr. Frank Zangari on twitter (@Zangari_lhs) for highlights and updates of the day's events.
What interests you about broadcasting?
---
WITH PRIDE AND APPRECIATION
Taking pride and appreciating staff throughout the district comes naturally for a superintendent because on a daily basis all of our work is so intertwined and easily made evident. When students take pride and appreciate the work of staff it has even greater meaning. Lawrence High School Senior Kristina Vukaj expressed the pride and appreciation that students have, thus echoing sentiments felt by of us throughout the district for our amazing Custodians and Maintenance Staff.
From an Article in the LHS Mental Pablum By Kristina Vukaj:
How great is it to be greeted by sparkling clean floors every morning when coming to school? Or even better, being able to sit and enjoy lunch in a pristine cafeteria whose cleanliness is thoroughly maintained after seating the barbaric mongrels we are? Girls, aren't you glad that all the old locks on the bathroom stalls that were broken have since been replaced, or that the mirrors in the bathroom are always sparkling? It's not easy, and it's not that fun, but our amazing Maintenance Department is the one to thank for that.
From early morning until the evening, these hard workers keep the school clean and properly functioning through rain, sleet, and snow, even working on the weekends and during breaks as well. They're the ones that shovel the sidewalks after it snows or the ones that fix lights in the auditorium when they're not working. Imagine all the times, especially in the warmer months, when the field is littered with the day's garbage – from lunch trays and food to old papers or when the glass on the gym doors are cracked due to a long game of soccer. They're immediately taken care of by our speedy Maintenance Department.
But not only are they the best at keeping our school looking great, they're easygoing, down-to-earth people. They're very funny, constantly cracking jokes with students and teachers alike, and often provide great conversation when passing in the halls. It's quite easy for us to take their services for granted, but they should go on unacknowledged no more – we thank you and applaud you for keeping our school as immaculate as it is. We really couldn't ask for a better Maintenance Department.
---
Click for photos of the 125th Anniversary Concert and the History of Lawrence Exhibit
Dear Lawrence Family,
This year we celebrate the 125th anniversary of the founding of the Lawrence Public Schools. Our great community has supported a tradition of excellence that has been sustained and cultivated since 1891. The demands of the 21st century, the technological advances of the information age, and the rapid changes in our global society require that our children be prepared better than ever before. Reflecting on our rich history we can learn from the challenges that previous generations had to overcome. We take pride in our children, teachers, families and community for overcoming the complex challenges of our time.
Our robust scholastic offerings and expansive programming have provided a foundation for achievement that has enabled our school district to continue to earn distinction. As times have changed we have adapted to reflect our community's shared values and collective vision for the future we all want for our children. Most important, the Lawrence Public School continues with resolve to focus on our mission as the unifying force at the heart of a cultural mosaic. Wishing you and your family a successful school year and Happy Anniversary!
Gary Schall, Superintendent
---
125th Digital Exhibit created by Ilanit Oknin