I LEARNED ABOUT UNIFORMS THROUGH MUSIC
For many years, the Lawrence High School Band performed at football games from the stands. Opting not to wear marching band uniforms, students performed as a pep band instead of marching in parades and half time shows. Back in 1998, having received an invitation to march in a local parade, the students agreed to do so, and for the event choose to wear a traditional blue and gold Lawrence tee shirt, jeans and sneakers- the look seemed cool enough. Yet, to everyone's surprise, a marching band from a neighboring district was also in the parade dressed in full regalia with decorated uniforms, marching shoes, and hats with plumes. Both bands performed at an equal level but the visual contrast was stark and public. At that moment the students understood the impact of a uniform.
Early the next morning, waiting for me at the school entrance was Dr. David Sussman who was then Board President. He asked how much new marching band uniforms would cost and assured me that the Board would find the funding. Thus began the transformation of our Marching Band, which ultimately led the advancement of our entire music program.
With any institutional or systemic school change students must be empowered and take ownership. Change is not achieved through a reward system. It is not achieved through compliance, consequences, or disciplinary action. Change is achieved through student leadership and intrinsic motivation.
Back then, the transformation of the marching band was led by four remarkable students. Wilbert Pharr became the first Drum Major of the LHS Marching Band. He went on to receive a full scholarship to Louisiana Tech, eventually became their Drum Major, remained in Louisiana as a relief volunteer after Katrina, and is now a music educator in New Orleans. Marty Wolfe became the first President of the Marching Band, went on to Yale, graduated Phi Beta Kappa and is now a gastroenterologist and professor of Clinical Medicine at NYU Medical. Lee Squitieri became the Marching Band Vice President, received a scholarship to MIT, went on to become a plastic surgeon at one of the nation's top children's hospitals and recently received a fellowship in Health Policy at UCLA. Matt Reich became the first Marching Band PR manager, went on to George Washington University and now records and tours internationally with his own band. In their college essays and interviews Wilbert, Marty, Lee, and Matt each described the experience of transformational leadership- how they helped change the culture of an organization.
The Marching Band went on to achieve at levels beyond expectation, performing in prestigious NYC Parades down 5th Ave, the MTV Awards at Radio City, and down Main Street in Disneyworld among the nation's top bands.
Last year, Lawrence parents overwhelmingly voted 4-1 for students to wear school uniforms. In the first two weeks of school the new uniforms have had a dramatic impact.
I learned about uniforms through music. If the lessons I learned are correct- ultimately real change is from within.
Gary Schall, School Superintendent
---
The Lawrence Golden Tornadoes!
The Lawrence Elementary School @ Broadway Campus school year begins!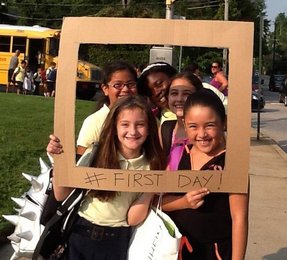 Truck Day! at LECC, Number 4 School
---