Gary Schall, School Superintendent
Dr. Ann Pedersen, Deputy Superintendent
Jeremy Feder, Assistant Superintendent for Business and Operations
---
Transportation and Textbook Registration
2017-2018 School Year
Non-Public Schools
February 1 – April 1, 2017
All Students who currently receive transportation and/or textbooks from the District must register on line.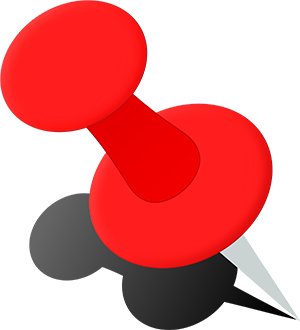 ---
Director Of Facilities Association Co-Op Bid for Suspended Ceiling/Acoustic Ceiling Bid.
---
WITH PRIDE AND APPRECIATION
Taking pride and appreciating staff throughout the district comes naturally for a superintendent because on a daily basis all of our work is so intertwined and easily made evident. When students take pride and appreciate the work of staff it has even greater meaning. Lawrence High School Senior Kristina Vukaj expressed the pride and appreciation that students have, thus echoing sentiments felt by of us throughout the district for our amazing Custodians and Maintenance Staff.
From an Article in the LHS Mental Pablum
By Kristina Vukaj
How great is it to be greeted by sparkling clean floors every morning when coming to school? Or even better, being able to sit and enjoy lunch in a pristine cafeteria whose cleanliness is thoroughly maintained after seating the barbaric mongrels we are? Girls, aren't you glad that all the old locks on the bathroom stalls that were broken have since been replaced, or that the mirrors in the bathroom are always sparkling? It's not easy, and it's not that fun, but our amazing Maintenance Department is the one to thank for that.
From early morning until the evening, these hard workers keep the school clean and properly functioning through rain, sleet, and snow, even working on the weekends and during breaks as well. They're the ones that shovel the sidewalks after it snows or the ones that fix lights in the auditorium when they're not working. Imagine all the times, especially in the warmer months, when the field is littered with the day's garbage – from lunch trays and food to old papers or when the glass on the gym doors are cracked due to a long game of soccer. They're immediately taken care of by our speedy Maintenance Department.
But not only are they the best at keeping our school looking great, they're easygoing, down-to-earth people. They're very funny, constantly cracking jokes with students and teachers alike, and often provide great conversation when passing in the halls. It's quite easy for us to take their services for granted, but they should go on unacknowledged no more – we thank you and applaud you for keeping our school as immaculate as it is. We really couldn't ask for a better Maintenance Department.
---
Lawrence High School is proud to announce the following for the Class of 2017:
Valedictorian – Allen Green
Salutatorian – Aaron Casanada
Honor Speaker – Barbara Williams
Congratulations to these hardworking students!
---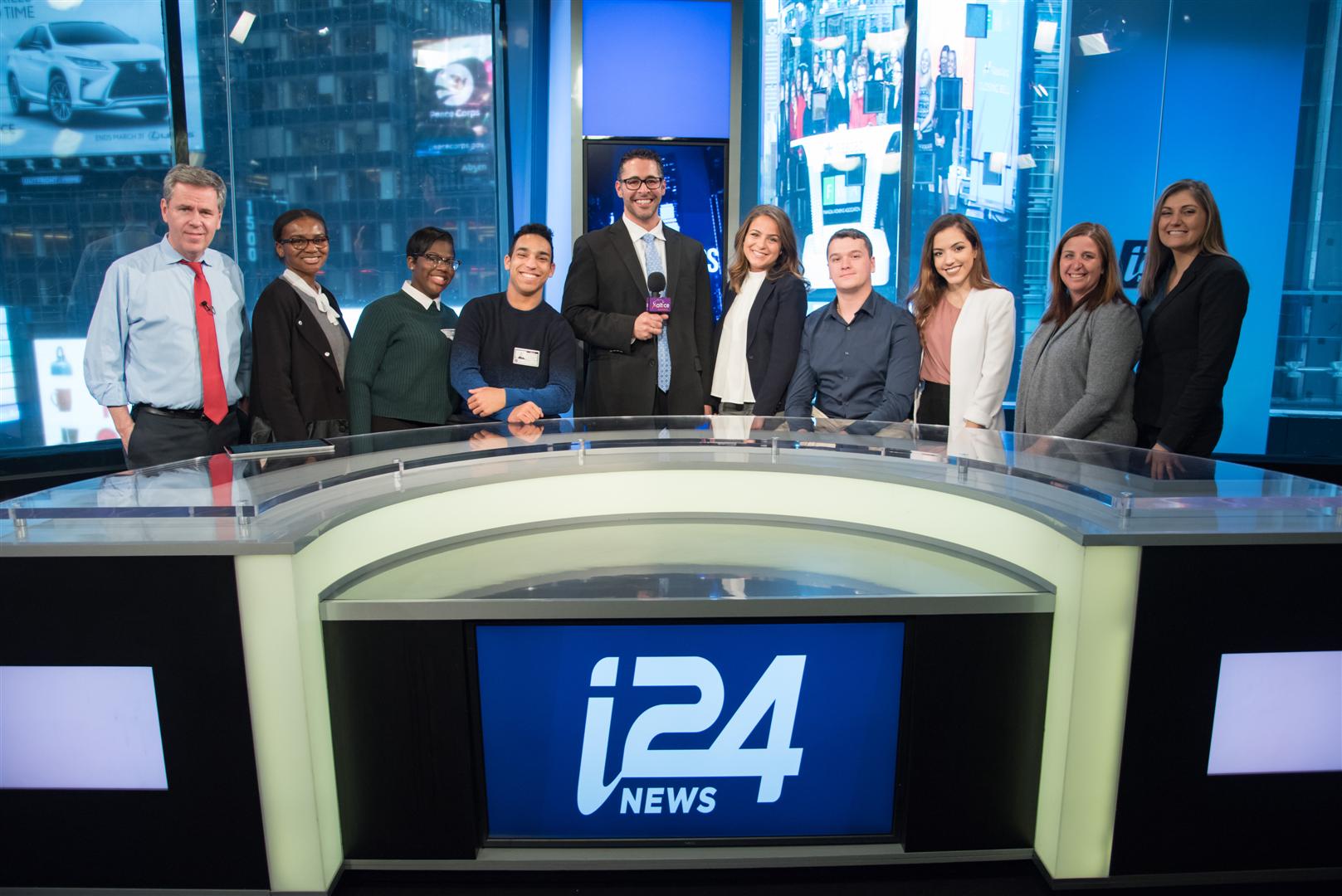 READ THE FULL ARTICLE IN NEWSDAY
Altice USA and i24News recently announced a media program for local NY tri-state area high schools called Altice Connects Global Voices. The program allows local high school students to engage with the i24News team and discuss current events. To kick off the program, Lawrence High School students Ariana Brown, Haisha Famuyide, Stanley Faynblut, Ruby Levine, Jessica Moreno, and Matthew Zampino participated in a behind the scenes experience at the i24News studio in Times Square.
---
LAWRENCE HIGH SCHOOL SENIOR & FRIENDS SHARE LAWRENCE PRIDE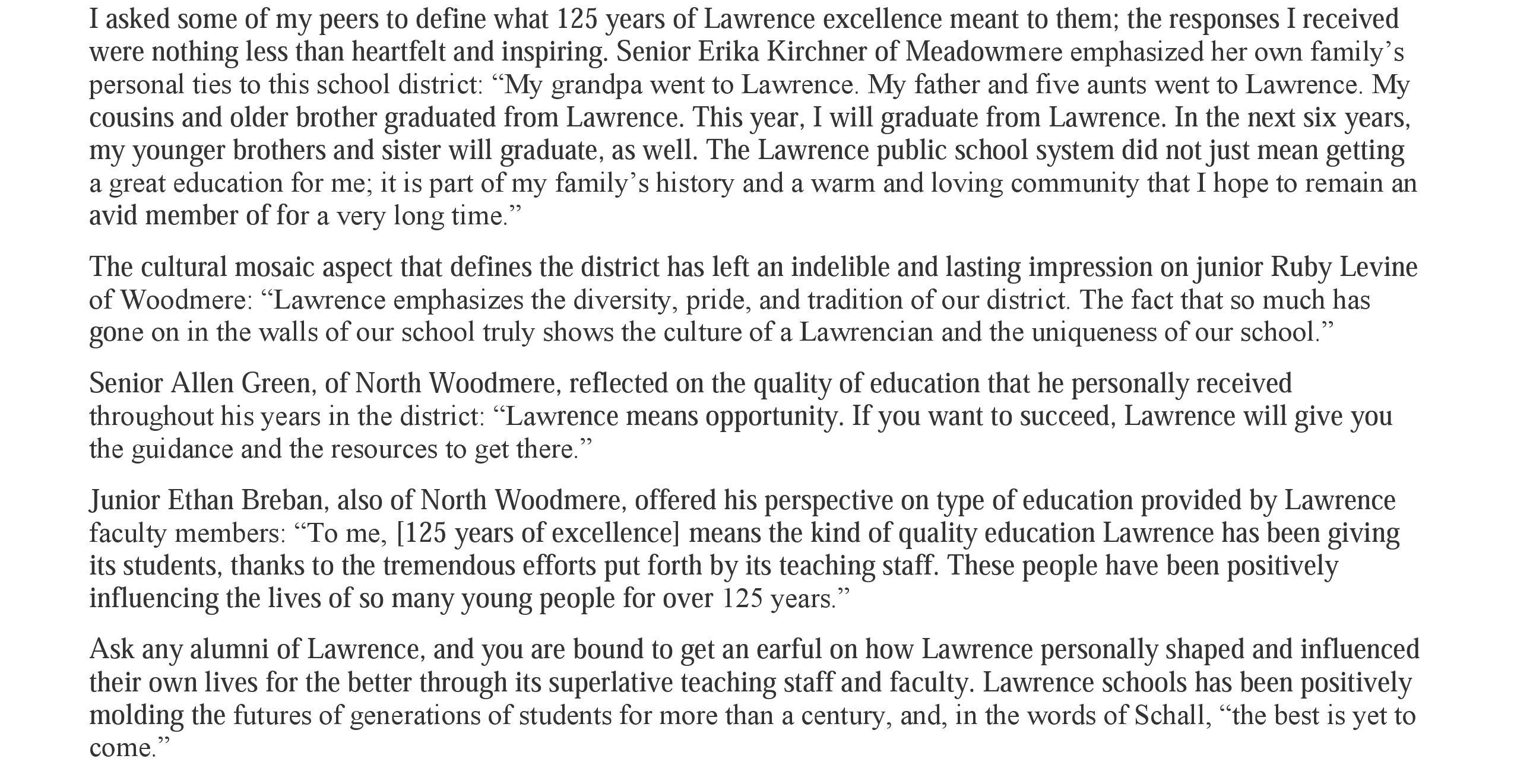 From Nassau Herald, January 19, 2017
---
Lawrence students gear up for an i24News Experience
Through a continued partnership with Optimum and Altice that has enabled Lawrence students to attend the last two Presidential Debates at Hofstra University, Lawrence students Ariana Brown, Haisha Famuyide, Stanley Faynblut, Ruby Levine, Jessica Moreno, Yael Oken, Danielle Portillo, and Matthew Zampino have been invited to the brand new i24News Studios in Manhattan on Monday March 6th. Students will be getting a behind the scenes tour and access to the studios. Follow Dr. Frank Zangari on twitter (@Zangari_lhs) for highlights and updates of the day's events.
What interests you about broadcasting?
---
Lawrence Students Invited to Present Original Research in Beantown!
---
The Michael D. Richardson Foundation Scholarship
1. Students must show financial need
2. Students have Algebra, Geometry, Trigonometry, Calculus, up to Physics on their transcript
3. Be a US citizen or resident alien
4. Minimum of an 85 average in 4 academic subjects
5. Three (3) of teacher letters of recommendation 9 (math, ELA, SS, science, principal)
6. One (1) letter from Clergy, community service, etc.
Please see your counselor for an application.
DEADLINE IS MARCH 31ST
---
Love Linda Inc. Scholarship Application
---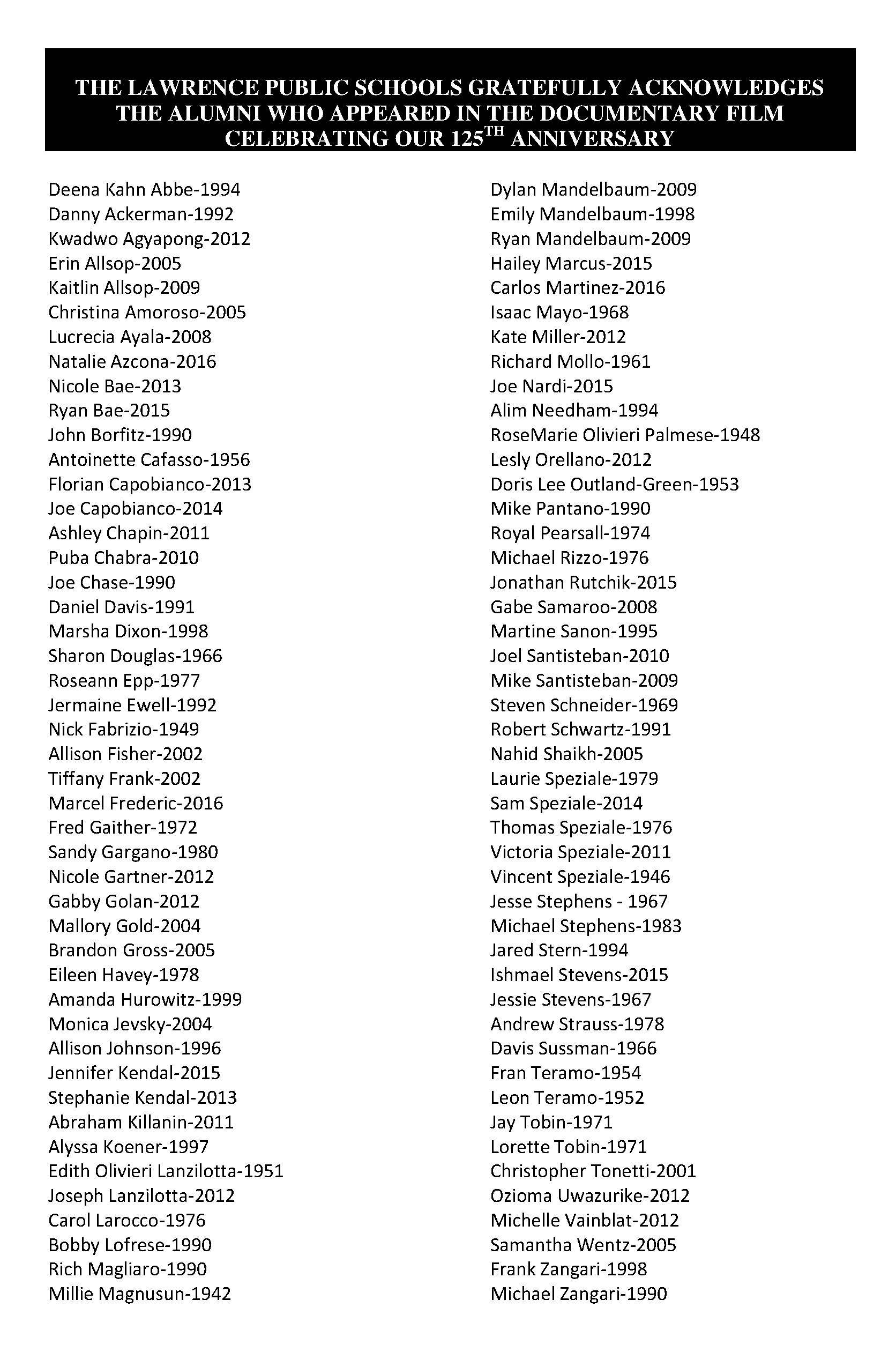 ---
The Lawrence Family Tradition
We mark the New Year by celebrating the 125th Anniversary of the Lawrence Public Schools, founded on January 24, 1891. Lawrence pride and tradition have never been stronger and will be most evident at the upcoming festivities. The District's historical research team led by LHS Social Studies Teacher Dr. Frank Zangari (LHS Class of 1998 & Yale '02), brings passion for history and a deep understanding of the Lawrence tradition. In collaboration with Dr. Stephen Sullivan and assisted by student researchers Jessica Moreno (Class of 2017), Stacy Portillo (2018), Barbara Williams (2017), and Niko Williams (2018), the team has gone through hundreds of articles, photographs, historical artifacts and memorabilia. In addition, over six hours of interviews were completed with more than 80 alumni who represent every decade going as far back as the Class of 1942. The interviews have been woven into an emotion-packed 1 hour documentary, The History of Lawrence, edited by Nicole Gartner (Class of 2012), who is currently the Social and Digital Editor for ESPN. There will not be a dry eye in the house for its premier!
The History of Lawrence, will also be told through a museum exhibit curated by our extraordinary and highly creative LHS Art Department. Rob Verone, Ilanit Oknin, Janet Gaines, Joanne Delguidice, and Lee Eskin bring their unique talents in wide range mediums to create a totally engaging exhibit that tells the Lawrence story through compelling imagery. Mr. Verone's Imagineers Class actually used wood from our recently replaced bleachers to create museum show-cases that will hold the artifacts and memorabilia. Professional graphic designer Miriam Vainblat (Class of 2012), worked with LHS art students to design display posters of notable alumni including Steve Madden who plans to attend the celebration as well.
Culminating the festivities, Music Department Coordinator Pam Gallopini and LHS Orchestra Director Terry Batts have re-united members of the Lawrence Philharmonic who along with over 100 students in the Philharmonic Chorus will present a good old fashioned Hometown Concert. Over a dozen alumni will be returning to perform and several will be featured as soloists. Former Music Department and Philharmonic Secretary Maureen Feirman, whose daughters are also Lawrence grads (Lori Class of 1992 & Nikki '95) is assisting in the organization of the concert. Phase 1 and Phase 2 of an $850K renovation project of our LHS Auditorium have been completed for the concert with the final phase to be completed immediately after the event, all representing our community's long standing tradition of support.
The 125th Anniversary Committee has planned a dinner dance. LHS Special Education Teacher and Key Club Advisor Izzy Mayo (Class of 1968), has his student volunteers working the event. Committee members Cathy Santora (Class of 1962), Roseanne Epp (Class of 1977), Gina Loch, Blasia Baum and Victoria Libbey Simao and Pam Makaea Libbey whose children represent the 3rd generation of Libbey's to graduate Lawrence, have all volunteered for the last 10 months to plan all the details of this celebration.
Lots has changed since the founding of our school district but one thing has remained constant- the pride, tradition, and spirit of the Lawrence Family! This is reflected by the commitment of our staff, students, parents, alumni, and community in preparation of the Anniversary Festivities and on a daily basis in our schools!
Happy Anniversary!
Gary Schall
Superintendent
---
Click for photos of the 125th Anniversary Concert and the History of Lawrence Exhibit
---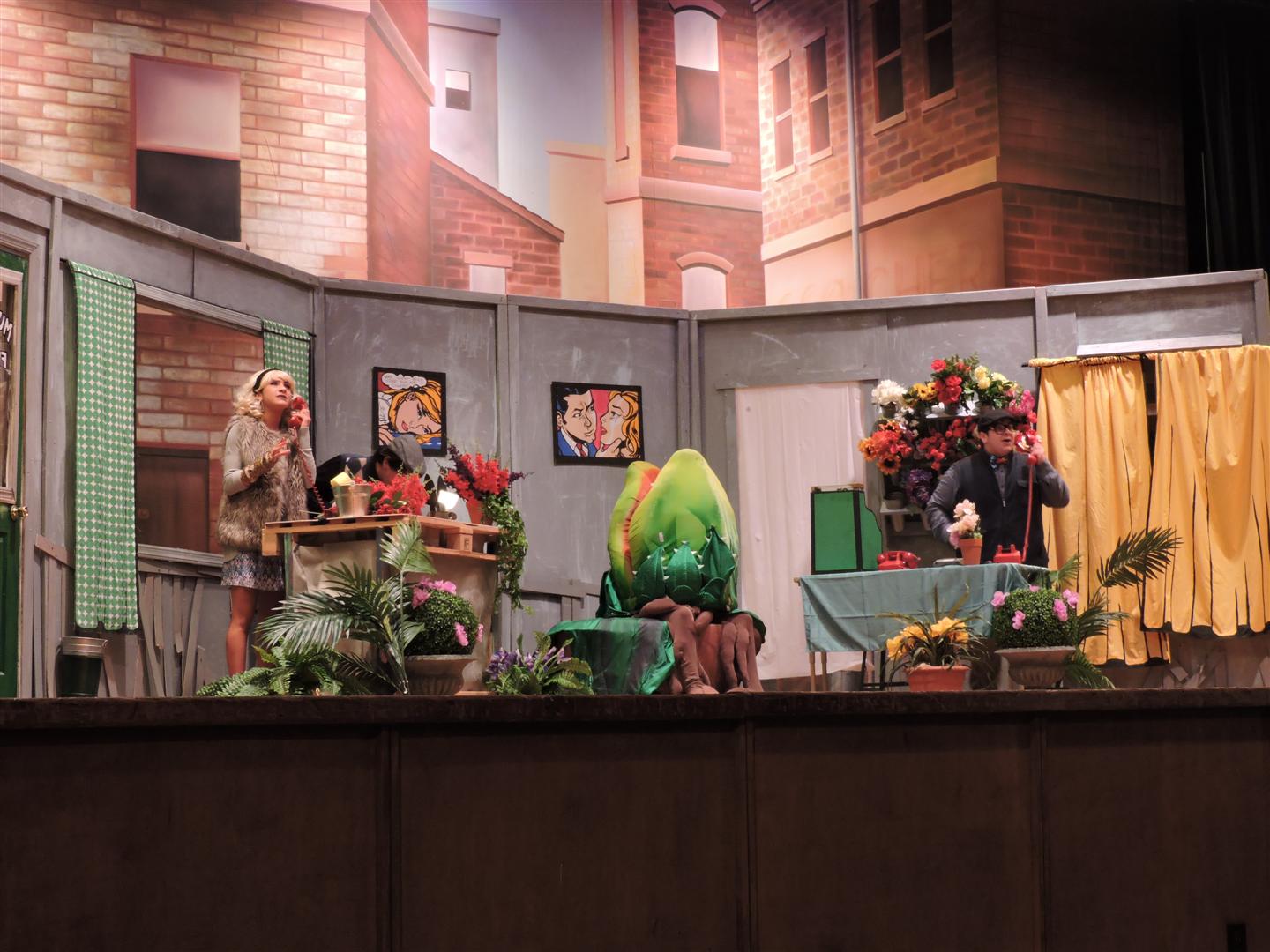 ---
LAWRENCE MIDDLE SCHOOL PRESENTS
---
LAWRENCE'S LIFE RHYTHMS BALANCED MIND PRESENTATION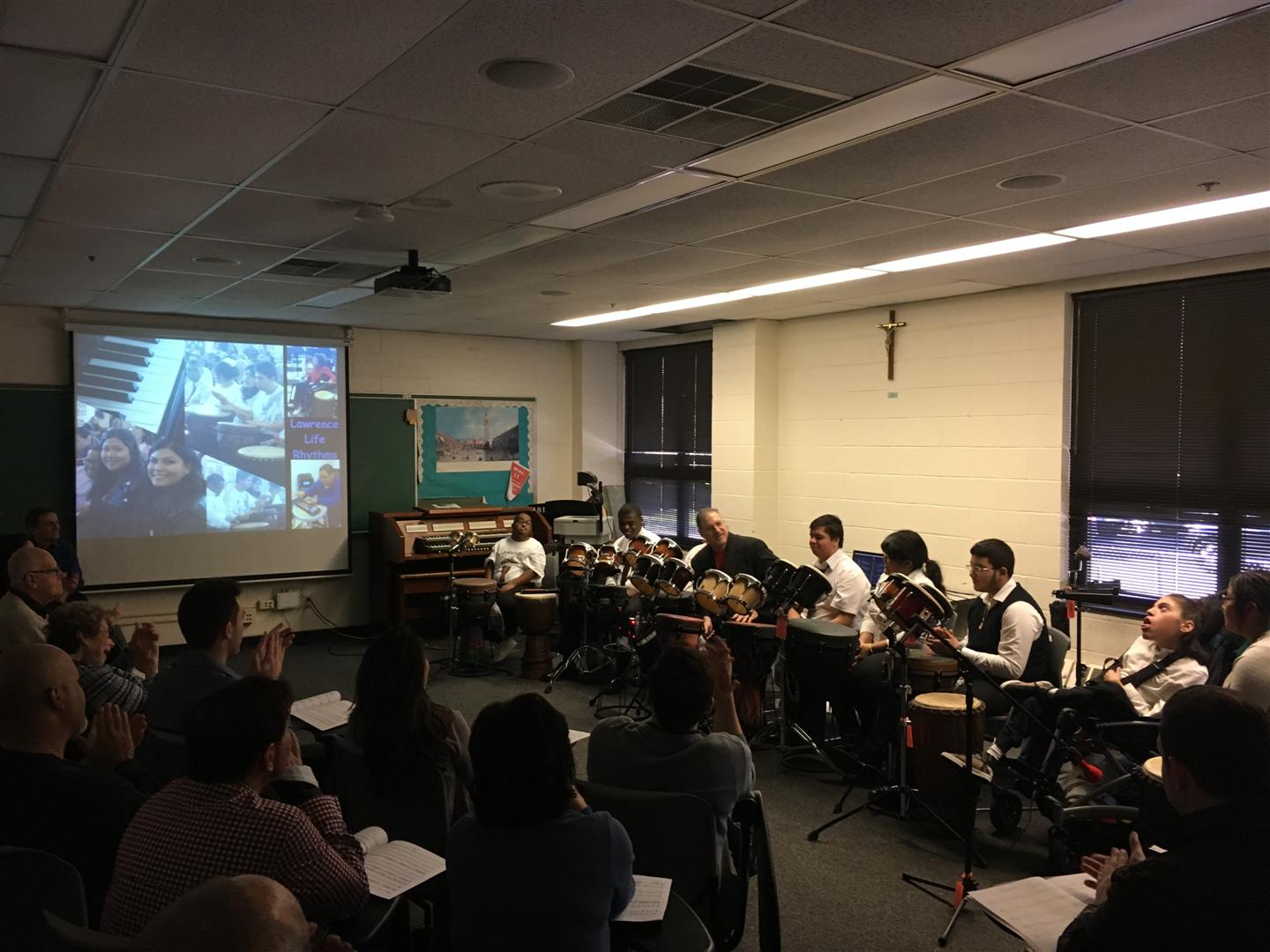 ---
Lawrence Middle School wins First Place
in the KidWind Competition
at the Cradle of Aviation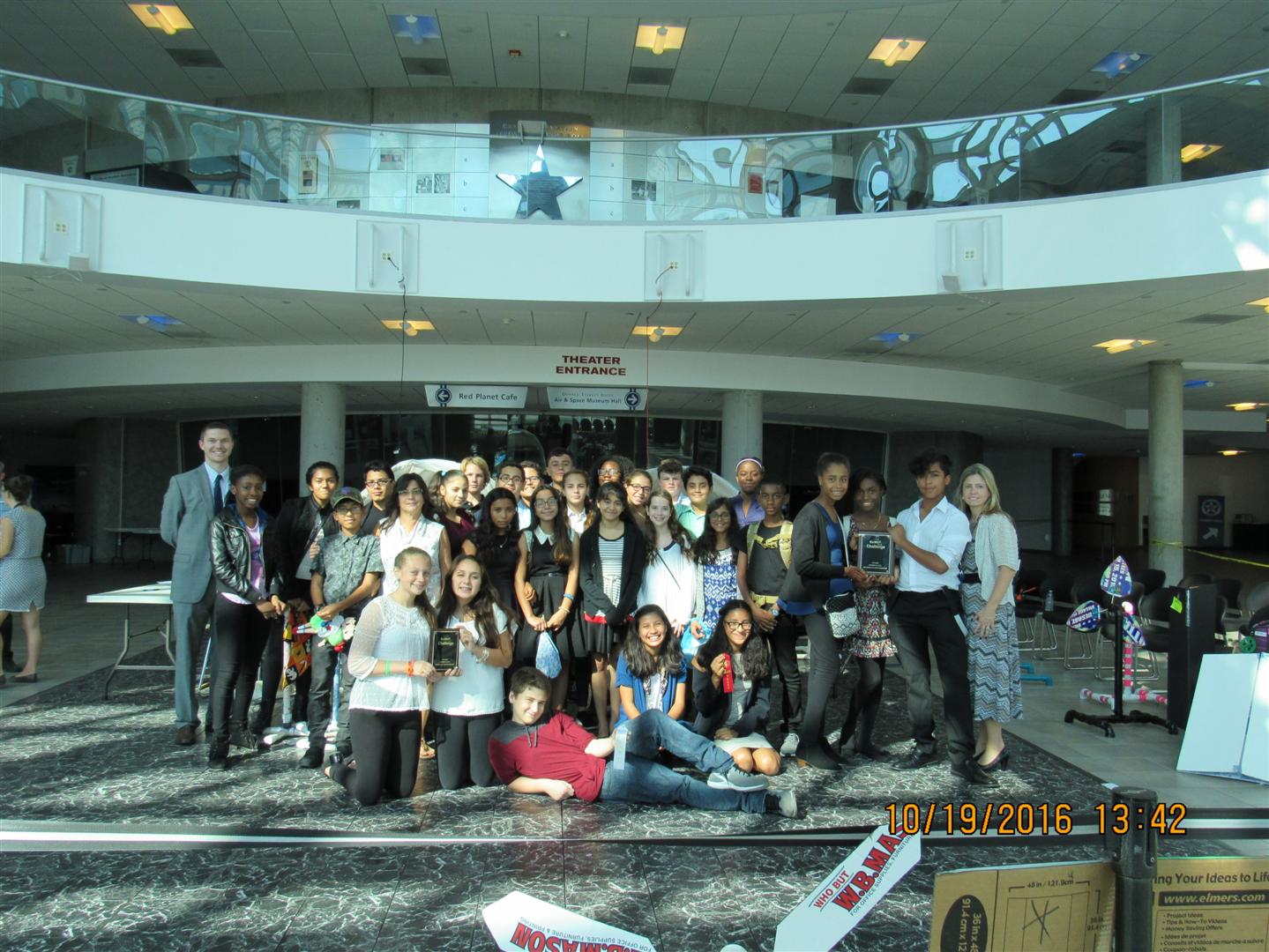 ---

---
FOUR WALLS FOR TOMORROW
Our race with time is never more evident than in December, having only 17 days of instruction. With calendar alerts, to do lists, lesson plans, and units of study we are forever planning to take advantage of every moment both professionally and personally. Our lesson plans and timelines enable us to reach instructional goals and calculate student outcomes. At the same time we balance our lives with plans and timelines for ourselves and our families. As educators we are great planners with an ability to chart all the steps required for students to reach their goals. We are like fortune tellers or wizards with the power to predict the future for our students. Having 2017 on the horizon we are reminded of goals we set each year for ourselves and the ability to forecast our own futures as well.
As educators we are life-long learners, trained in the process of thinking about and organizing the activities required to achieve a desired goal. Teaching and learning is a complex activity that involves careful preparation and planning objectives and activities on an hourly, daily, and weekly basis. In addition, long-term planning ensures coverage of curriculum across a marking period, semester, and year. Further, effective educators demonstrate high expectations and select strategies to propel learning. Beyond planning and preparation of materials, effective organizing for instruction also involves the development of a conscious orientation toward learning as the central focus.
Over the years, I have observed that the children of teachers become the best students in school. This is because as educators we plan for our own children at home as we do our children at school. There is a quote:
School is a building with four walls that has tomorrow in it.
I will add that the same holds true for the home.
Wishing you successful planning today for a successful tomorrow!
Gary Schall
Superintendent
---
MINDFULNESS PRESENTATION AT UN
Willis Perry, Rina Beach, and Christine Moore were joined by Lisa Salzberg, Jennifer Palermo, Anita Brites, Michele DiCeglio, Wendy Grand and Gary Schall for a Mindfulness presentation at the United Nations given by best-selling author and Google icon Chade-Meng Tan. Parents Richard, Pamela, and Victoria Libbey arranged for this special invitation given exclusively to staff at the UN. Mindfulness has become a major component of Social-Emotional Learning and Character Education in Lawrence. Mr. Tan discussed how Mindfulness became a major part of the Google culture and as a result has spread throughout the corporate world. Appropriate for a presentation at the UN, his vision is to use Mindfulness activities to promote world peace.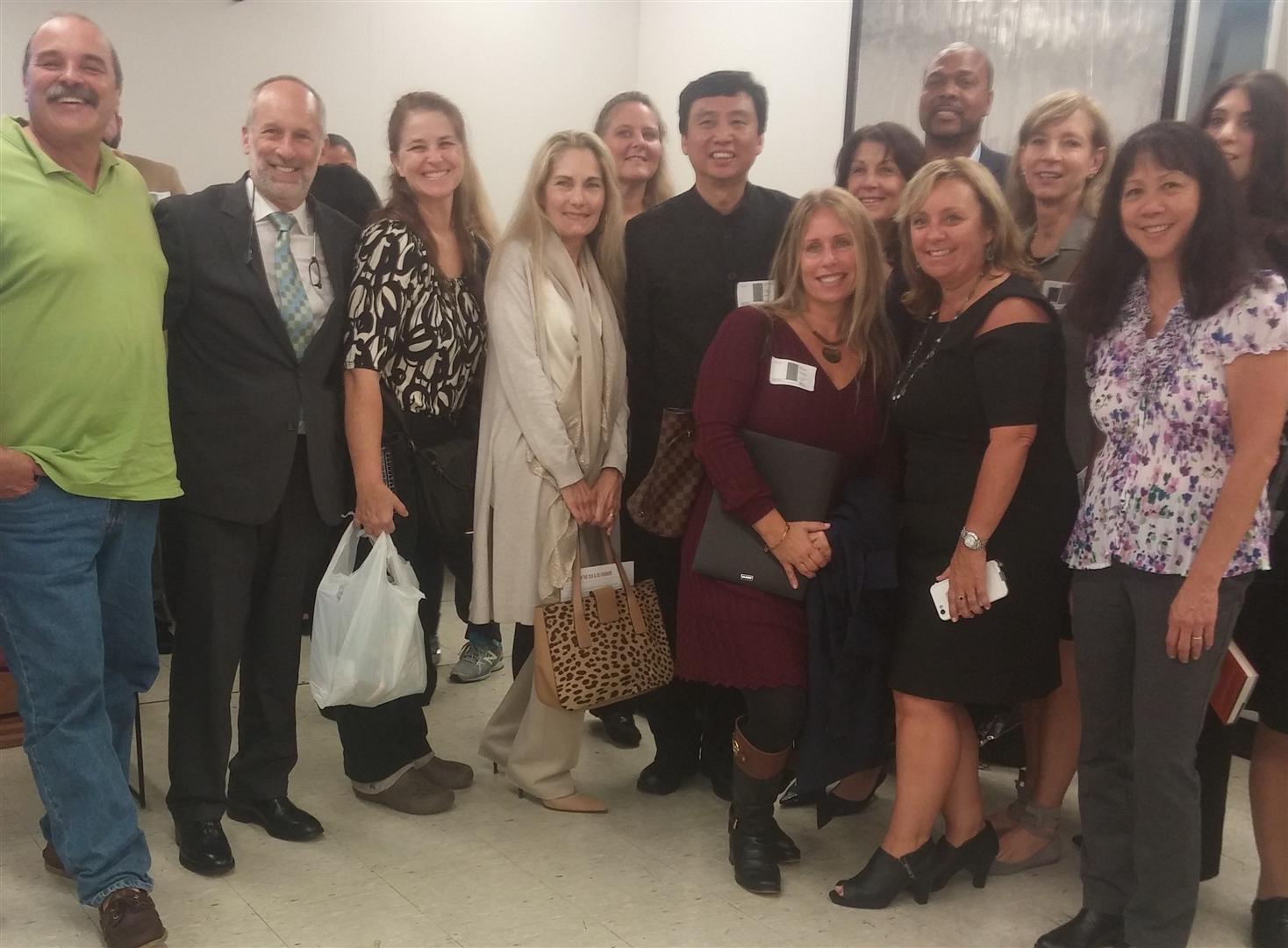 ---
Behind the Scenes at the 2016 Presidential Debate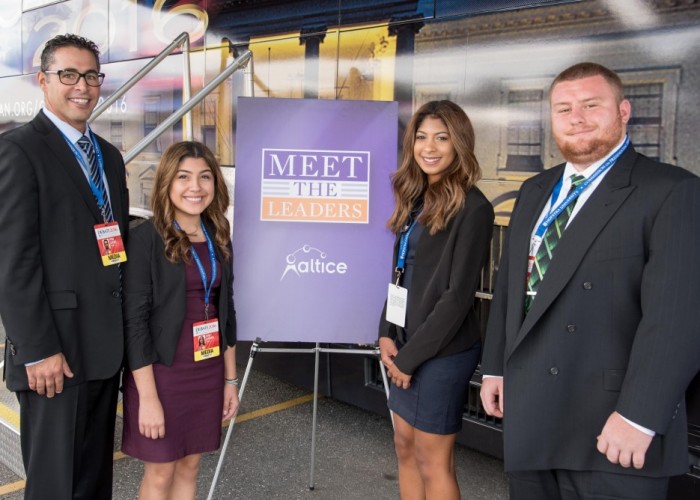 NATALIE AZCONA INTERVIEWS CONGRESSMAN BECERRA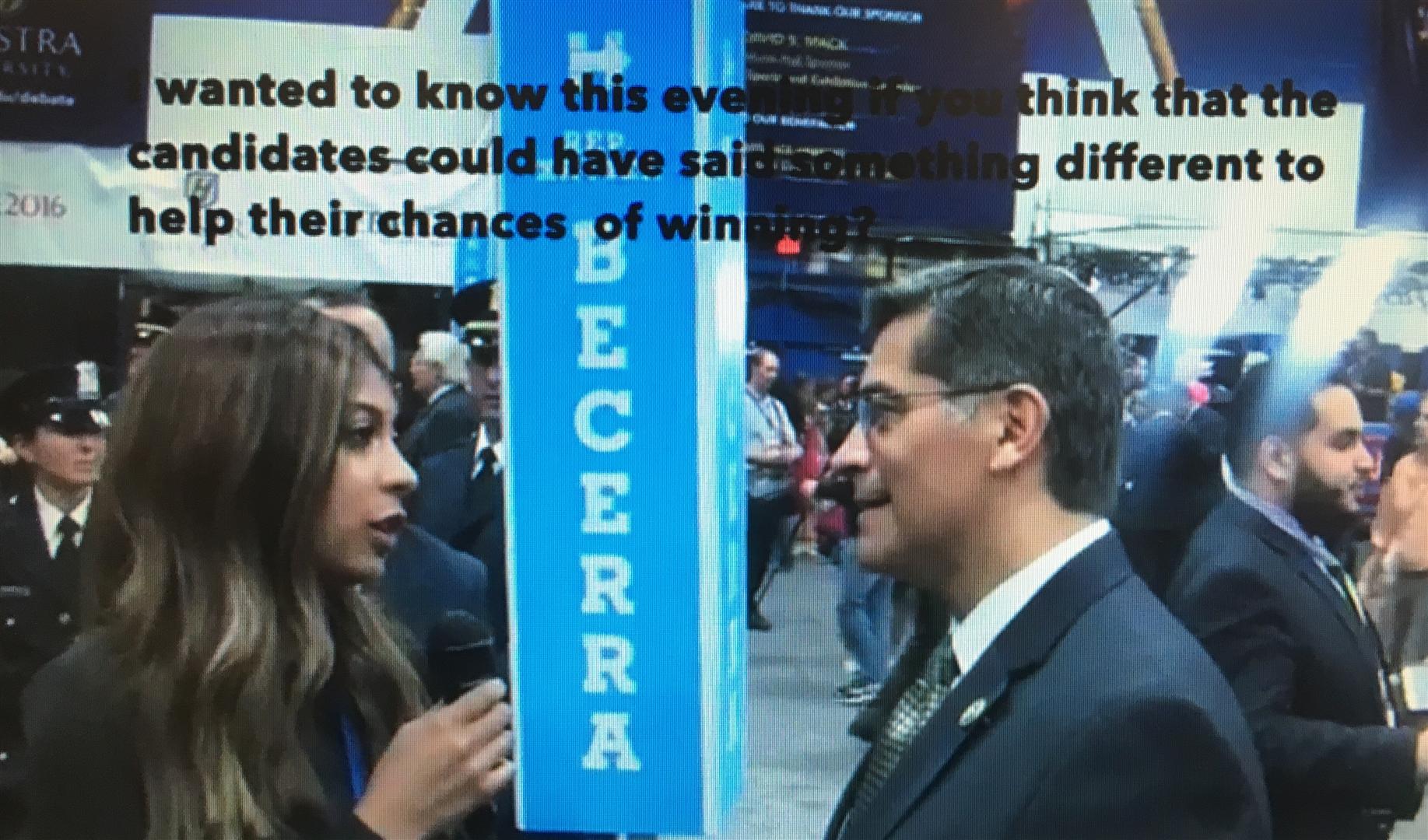 NATALIE AZCONA INTERVIEWS CONGRESSMAN STEVE ISRAEL
FRANK MANERA INTERVIEWS NASSAU COUNTY EXECUTIVE
NATALIE AZCONA INTERVIEWS CONGRESSMAN PETER KING
VIEW HIGHLIGHTS FROM THE DEBATE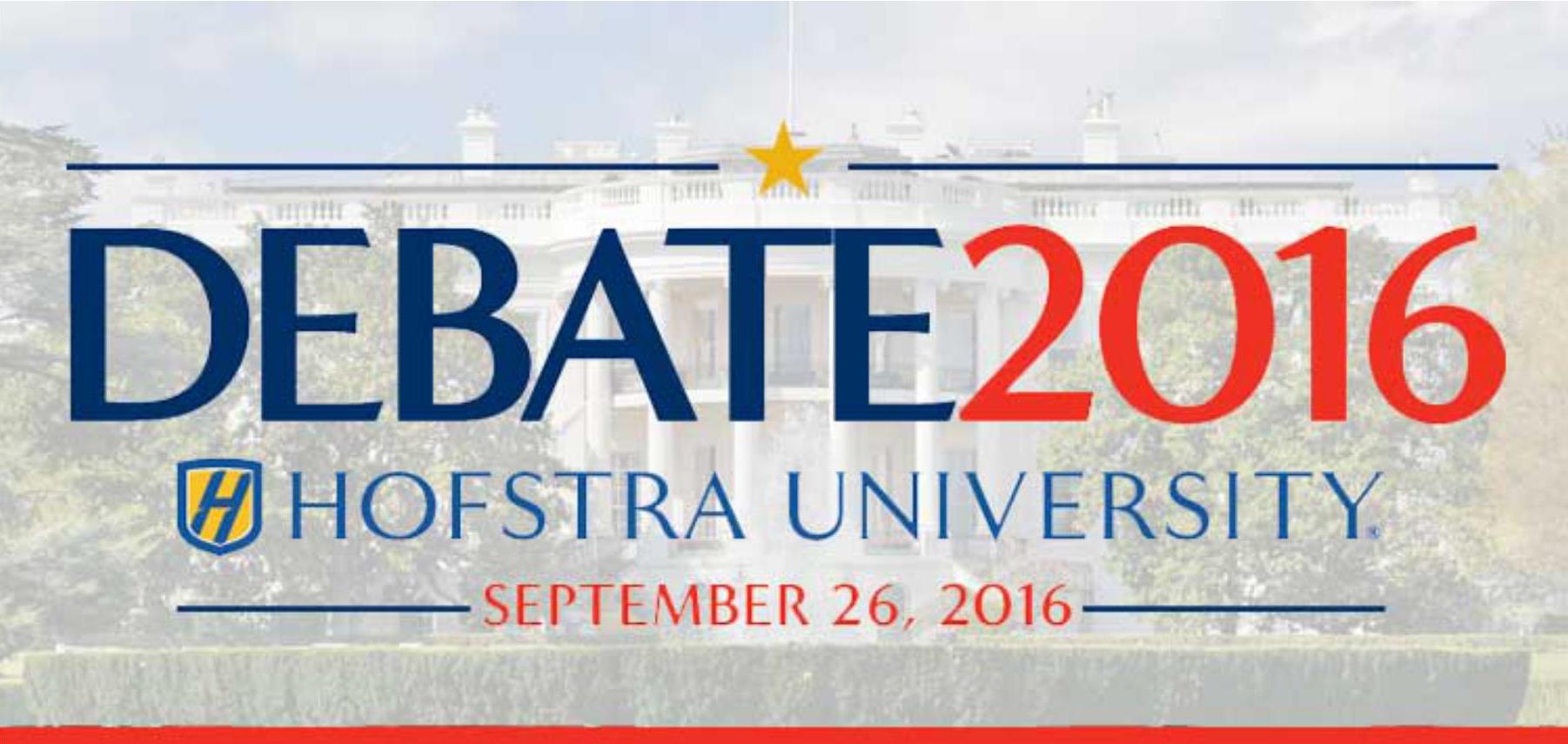 LHS GRADS COVER DEBATE
Three LHS Grads ('16), Natalie Azcona, Frank Manara, and Ashley Sandoval, were given press credentials to cover the Presidential Debate at Hofstra University. They had the opportunity to interview many of our nations leaders. Congratulations to LHS Social Studies teacher, Dr. Frank Zangari for making this possible.
---
STEAM FESTIVAL
On Sunday September 25, 2016, students from Lawrence Middle School and Lawrence High School participated in the Arts Below Sunrise Music and STEAM Festival in Hewlett. The event featured vendors, games, music, and art activities from nearby schools and small businesses. Lawrence was represented extremely well at the event in front of Woodmere Elementary School. Accompanied by Lawrence Middle School Assistant Principal Mr. Wieckhorst, Science teachers Mrs. Bracchy-Sarceno and Mrs. Ubertini, and Technology teacher Ms. Angert, our students highlighted their STEAM Projects from previous years and the many awards won by Lawrence Middle School students over the last few years in STEAM competitions, such as KidWind. Our students also conducted STEAM activities for those attending the festival, such as building a keychain code and building a catapult from given materials. In addition, games created by students using the "Scratch" computer program were on display for visitors to play.

Lawrence is truly "going full STEAM ahead", and that was very clear during this event."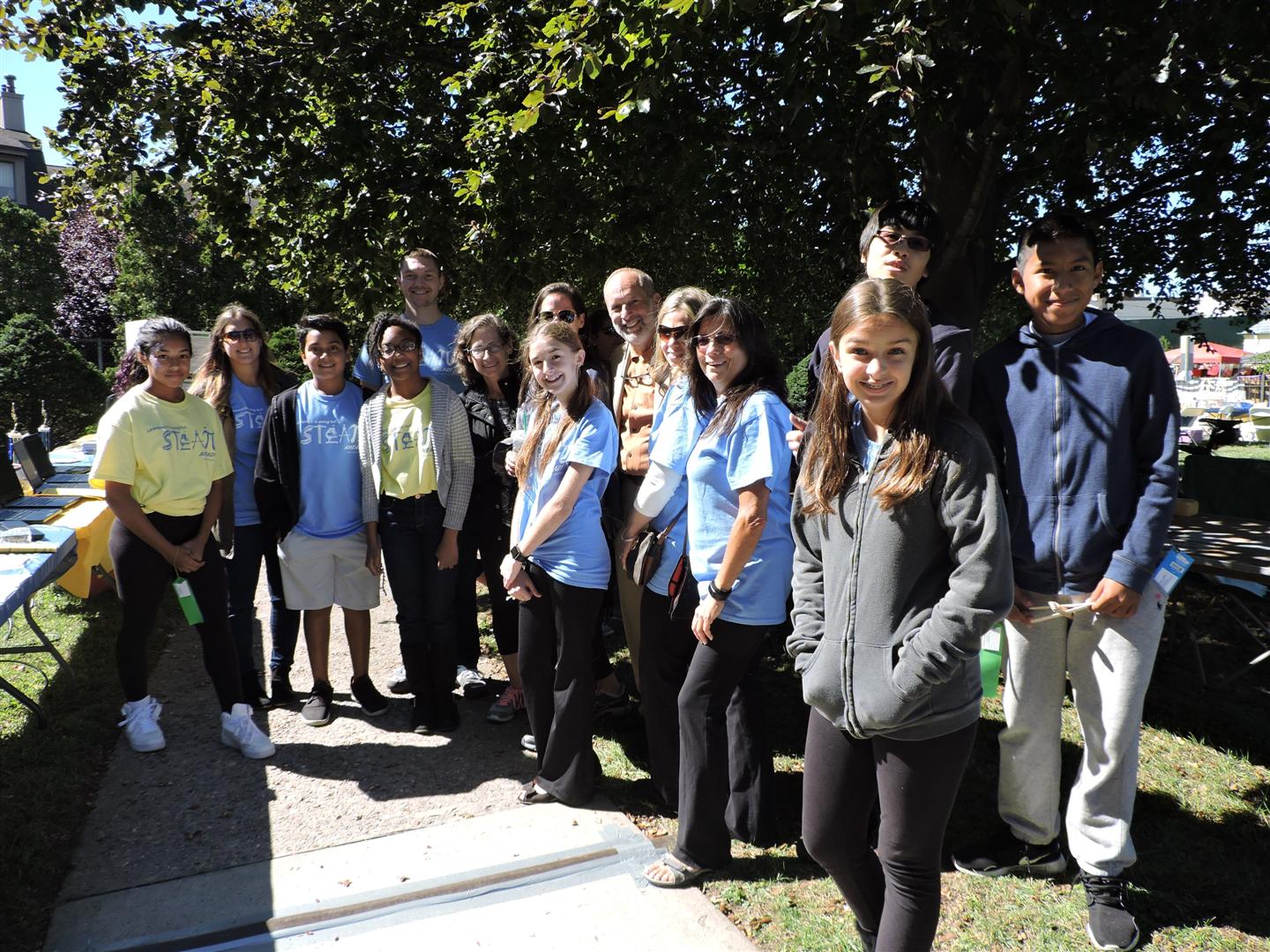 ---
LAWRENCE HIGH SCHOOL CLUBS & ORGANIZATIONS
---
LAWRENCE HIGH SCHOOL'S COLLEGE NIGHT
LAWRENCE HIGH SCHOOL PRESENTS: FOCUS ON YOUR FUTURE
LAWRENCE HIGH SCHOOL'S FINANCIAL AID PLANNING
FINANCIAL AID PROCESS: SPANISH
---
Dear Lawrence Family,
This year we celebrate the 125th anniversary of the founding of the Lawrence Public Schools. Our great community has supported a tradition of excellence that has been sustained and cultivated since 1891. The demands of the 21st century, the technological advances of the information age, and the rapid changes in our global society require that our children be prepared better than ever before. Reflecting on our rich history we can learn from the challenges that previous generations had to overcome. We take pride in our children, teachers, families and community for overcoming the complex challenges of our time.
Our robust scholastic offerings and expansive programming have provided a foundation for achievement that has enabled our school district to continue to earn distinction. As times have changed we have adapted to reflect our community's shared values and collective vision for the future we all want for our children. Most important, the Lawrence Public School continues with resolve to focus on our mission as the unifying force at the heart of a cultural mosaic. Wishing you and your family a successful school year and Happy Anniversary!
Gary Schall, Superintendent
---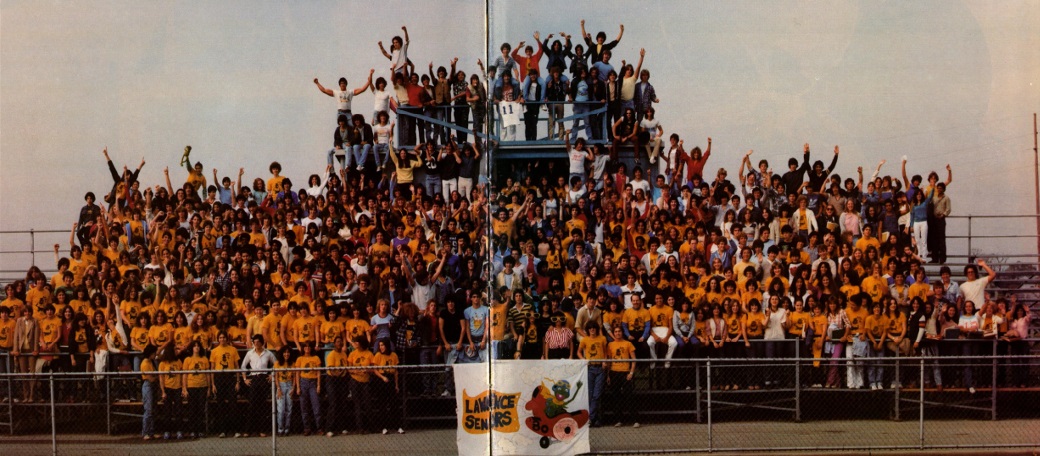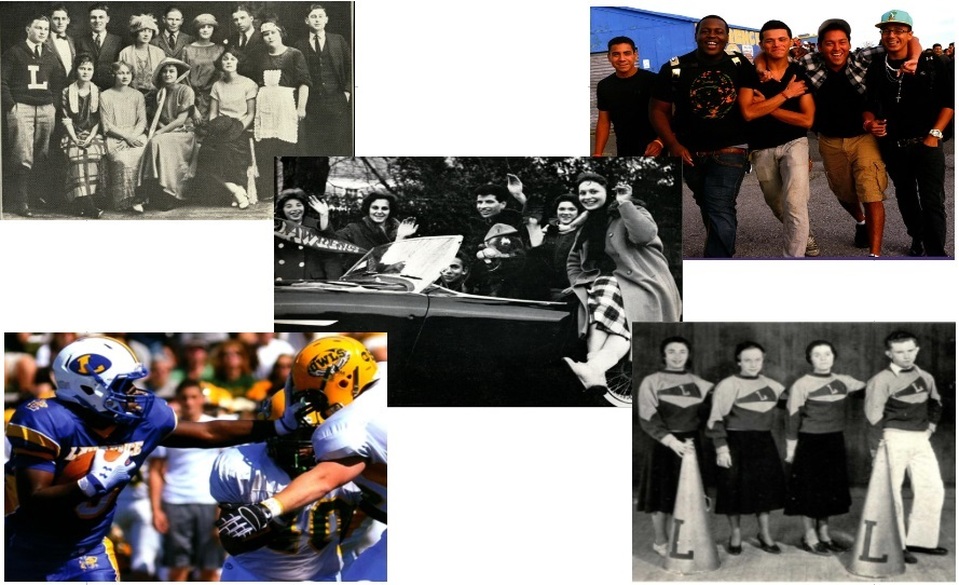 LAWRENCE PUBLIC SCHOOL DISTRICT: CELEBRATING 125 YEARS OF EXCELLENCE
LAWRENCE PUBLIC SCHOOLS 125TH ANNIVERSARY FACEBOOK PAGE
---
Congratulations to Lawrence HS senior Lee Blackburn who won second place at the Intel International Science & Engineering Fair held last week in Phoenix, Arizona......
---
I AM LAWRENCE SLIDESHOW PRESENTATION
---
LHS Senior Lee Blackburn is a first place winner of the Long Island Science and Engineering Fair for his research in the category of Energy. Lee created a catalyst and devised a method of applying it to a Hydrogen Fuel Cell that not only increased its power output but also completely prevented carbon monoxide from poisoning the platinum electrodes, which is the main problem plaguing the use of hydrogen fuel cells.

Lee is now a finalist in the Intel International Science and Engineering Fair and has won a week-long all expense paid trip to Phoenix, Arizona in May. He will present his research at the Intel international finalist competition, where approximately 1,700 high school students from over 75 countries, regions, and territories are awarded the opportunity to showcase their independent research and compete for approximately $4 million in prizes.

Lee will also be traveling, together with classmate Arthur Chen, to the American Physical Society March Meeting in Baltimore, Maryland on May 16, where each has been invited to present their research in a poster session. The meeting will bring together nearly 10,000 physicists, scientists, and students from all over the world to share groundbreaking research from industry, universities, and major labs.