The mission of the Lawrence Public Schools, a unifying force at the heart of a cultural mosaic, is to ensure all learners reach their highest individual potential, through an academically rigorous educational system that inspires life-long learning; focuses on creative, student-centered teaching and learning; and enables all to possess the confidence and abilities to meet life's challenges.
---
| | |
| --- | --- |
| | To Mother |
These days as roles broaden, everyone is responsible for incorporating English Language Arts into daily lessons for our children. Reflecting on how language is learned, we acknowledge the very first word that typically comes out of a child's mouth - "mama". Obviously, children connect the meaning of "mama" and "mom" to the word "mother", but we could all use a reminder from an old proverb that says, "mother is a verb not just a noun".

Obviously, a child can be mothered by all sorts of people- a biological mother, an adopted mother, a grandmother, aunt, uncle- even a father can mother! Certainly with our ever broadening role, teachers mother in the classroom every day. My Grandma Sophie mothered her children, grandchildren, great grandchildren, and the thousands of children she taught as an elementary school teacher in Brooklyn. She was the reason I became a teacher and I always think of her mothering style as a model for nurturing students. More than half a century later her approach would be labeled as a best practice of Social Emotional Learning.

As a young boy, I had several opportunities to visit Grandma Sophie's class. She showered her students with warmth, heart and compassion equal to that which was bestowed upon her own grandchildren. Similarly, her students adored her as did her grandchildren. To this day, as a father and educator I am inspired by these memories.

Family structure has certainly changed and kids face greater challenges than ever before. On a daily basis, throughout the district our teachers and staff address these challenges by nurturing meaningful relationships in supportive learning environments. We can't do it alone. Parents can't do it alone. Our partnership with parents is more important than ever before. This too, requires nurturing.

The recent Central Council PTA Dinner reflects the dedication of our parents, their critical role, and the extraordinary effort they make in school, at home, and in the community to help all children achieve success. Our PTA mothers and fathers, along with our teachers and staff have much in common. We see tomorrow in a child's eyes, and with our nurturing and our mothering help the child see a better future.

To the mothers to be, the mothers that are, the fathers, aunts, uncles, and guardians who mother our children, and the mothers and grandmothers whose memories inspire us- Happy Mother's Day!
Gary Schall, Superintendent of Schools
---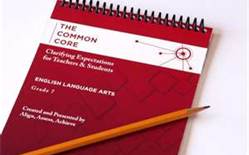 engageny Video for Parents and Families about the Common Core Assessments
NYSED News and Notes - Common Core Assessment Video Series
---
Superintendent's Employee of the Month
Christopher Milano has worked in School Facilities since 1987, and in Schools Facilities management for the past 15 years. He is a graduate of the New York Institute of Technology with a degree in Business Administration. His experience spans over 30 years, working through the ranks in seven school districts. Mr. Milano came to Lawrence 5 years ago as our Director of Facilities and in 2011 was appointed Executive Director of Facilities and Operations. His responsibilities extend to every area of Civil Service operations including our Buildings and Grounds, Facilities, Maintenance, Business Office, Transportation Office, Clerical Staff, and Security. Mr. Milano spearheaded our disaster recovery in the aftermath of Sandy. He managed the extraordinary 24/7 district-wide efforts that led to our high school ultimately re-opening in a timely fashion. The entire Lawrence Family gratefully acknowledges Mr. Milano and his crew for this most remarkable achievement. We are happy to announce Christopher Milano as the Superintendent's Employee of the Month.
---
| | |
| --- | --- |
| | The Teaching Channel |
---
The Lawrence Public Schools Academic Initiatives
Data Driven Instruction
Social Emotional Learning
Response to Intervention
Common Core Standards
For More Information: District Academic Plan