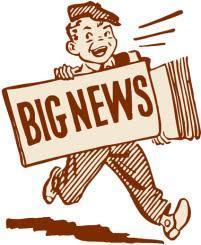 Daily Announcements 11.25.19
John Ballantyne
Monday, November 25, 2019
Lawrence High School
Announcements for Monday, November 25, 2019
Key Club and FHA – Advisors – Mr. Mayo and Ms. Cohen
Attention all students, faculty and staff…the 2019 Thanksgiving "one can" make a difference food drive is still on!!
Key Club and FHA are collecting canned food items such as canned vegetables, cranberry sauce, turkey gravy and non-perishable food items such as stuffing, cake mix and rice. Boxes of cookies too!!!! Please help to make Thanksgiving special to our families in need…. Bring all items to room 125F, Mr. Mayo's room. Thank you!!
AP Psychology – Advisor – Mr. Cohen
Mr. Cohen and his AP Psychology class would like to thank all the students, staff and administrator who attended and supported this year's, Pancake for Parkinson's yesterday. Thanks to your support we were able to raise $120,000. Hope to see you all again next year.
Senior News- Advisor – Ms. Weinstein
Attention seniors! If you would like your baby picture and senior quote in the yearbook we will need the following information by Tuesday, November 26:
A baby picture, a current picture, and your senior quote. That should be sent in one email, altogether to the following email address:
Classof2020yearbook@gmail.com.
Please see Ms. Weinstein in room 317 or Ms. Brandow in room 307 If you have any questions.
PTA News
Tomorrow is the last Pizza Tuesday of the month!! Come down to get a slice for $2.00 and a drink for $1.00.
S.A.D.D. – Advisor – Ms. Cammarata
S.A.D.D. would like to share some more ideas on how to stay healthy mentally.
1. Take 30 minutes to go for a walk in nature! It can be a stroll in the park or walk along
the beach. Research shows that being in nature can increase energy levels, reduce
depression and boost well-being.
2. "Anyone who has never made a mistake has never tried anything new" – Albert Einstein
3. Is something bothering you? Write it down!
S.A.D.D. le gustaría compartir algunas ideas más sobre cómo mantenerse saludable mentalmente.
1. Tómese 30 minutos para ir a dar un paseo en la naturaleza! Puede ser un paseo por el parque o caminar por la playa. La investigación muestra que estar en la naturaleza puede aumentar los niveles de energía, reducir la depresión y aumentar el bienestar.
2. "Cualquiera que nunca haya cometido un error nunca ha probado nada nuevo" – Albert Einstein
3. ¿Te está molestando algo? ¡Escríbelo!
TRI – M – Advisor – Mr. Batts
There will be a brief TRI-M officers meeting Tuesday morning, November 26th, before 1st period. All TRI-M officers must attend!