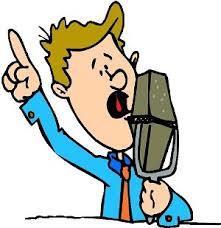 Daily Announcements 10.21.19
John Ballantyne
Monday, October 21, 2019
Lawrence High School
Announcements for Monday, October 21, 2019
Broadway Showcase – Advisors – Ms. Staller and Mr. Riley
Come audition for Shrek the musical on Wednesday, October 23rd. All are welcome! Sing 30-40 seconds of a song of your choosing or if you're auditioning for a specific role, then sing the song of that character. Sign up for a slot with Mr. Riley in the Chorus room.
Junior News – Advisor – Ms. Kind
Today is the last day to buy your PINK OUT SHIRT, on sale by the Junior Class Officers: Daniela Andrade, Nader Daruvala, Max Bardalos-Granados or Jose Garcia!! See an officer or Ms. Kind asap. Orders will be placed at the end of the school day today!!! $12.00 a shirt!
Hey… everyone knows that October is Break Cancer Awareness month, but did you hear that on the last day of the month, October 31st, Lawrence High School will sponsor a PINK OUT!! That means we want you to wear PINK to show your support to those affected by Breast Cancer. So wear your Pink Out shirt (on sale from the Junior Class for the last day today) or wear pink clothing or grab a pink ribbon that Student Government will be passing out in the main lobby!
Key Club – Advisor – Mr. Mayo
This Halloween, October 31st, Key Club wants your Blood!!!
It's the annual Lawrence HS Blood Drive.
The Blood Drive will take place on Thursday, October 31st from 8:00 am – 2:00 pm
All donating students must bring their student ID in order to donate. 16 year old students must have a parent permission form to donate. Forms are available from Mr. Mayo or Key Club Officers. Please donate, each donation saves two lives. Thank you from Key Club!
Multicultural Club –Advisor – Ms. Kind
Attention students in the Multicultural club and anyone who would like to join! We need you!!! Come Wednesday, after school to room 125E, where our meetings are held, grab a snack, kick back and get ready to plan the year! This meeting we are looking to find members who want to run for office. This Wednesday, Room 125E
Safe Treat or Treat – Advisors – Jessica McComsey and Mr. Mugno
On Thursday, October 24th from 5-7 pm, the National Honor Society is hosting their annual "Safe Trick or Treat" at Lawrence high School. The admission is $5. per family and all proceeds will be donated to the Polycystic Kidney Foundation. Please keep in mind, no child will be admitted into the school without a parent. Come dressed in your costumes for a fun night with family and friends at Lawrence High School's "Safe Trick or Treat". See you there!!!
Talent Show – Advisor – Ms. Kind
The Talent show will be coming up soon. It's a night where ANY student can perform in a show. They can dance, sing, play an instrument, perform a comedy act and whatever you would like to do. It's run by the Junior Student Government but not only for Juniors to perform in.
The cost is $5.00 but right now auditions are coming up. They are on Friday, October 25th, right after school, in the Little Theater. If you have an emergency, see Ms. Kind. She will rearrange another time for you to audition but only in an emergency.
TRI-M – Advisor-Mr. Batts
TRI-M Music Honor Society will meet Tuesday after school. This is a general meeting for all TRI-M members.