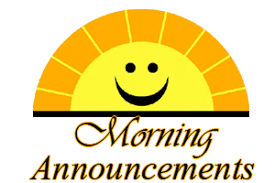 Daily Announcements 4.12.19
John Ballantyne
Friday, April 12, 2019
Lawrence High School
Announcements for Friday, April 12 2019
Day 1
Baseball-Advisor-Mr. Gordon
Lawrence rolls to their 4th straight victory beating West Hempstead 13-7. John Loughlin Jr. pitched a complete game with 8 strikeouts. Lawrence moved to 4-1 in league play.
Guidance News!
The Inwood Civic Memorial Scholarship and the Love Linda Scholarship applications are both available in the Guidance Office.
Central Council PTA Scholarship applications are now available in the Guidance Office
A Representative from Herff Jones will be here to take the orders for the caps and gowns on Tuesday, April 16th, 2019, during lunch periods.
Key Club- Advisor – Mr. Mayo
Key Club will be sponsoring Fundraiser in April. Our first Annual Teacher vs. Student Hot dog eating contest. See Mr. Mayo or any Key Club Officer to apply for the contest.
There will be a registration fee of $5.00, per contestant.
TRI-M – Advisor- Mr. Batts
All TRI-M officers, students being induced into TRI-M and soloists performing in next Tuesday's induction ceremony, must attend next Monday's meeting and run through.